Resize Windows To Any Pre-Defined Resolution With Sizer
Sizer is a small window resizing application that lets you define custom window sizes which can be easily toggled in a click. You can also configure altering the position of the window when a specific size is selected for it. This is useful for instantly viewing a particular website in smaller resolution or making sure that the size of all windows is the same when taking screenshots.
Once Sizer is launched, it sits in the system tray and allows you to instantly resize windows according to defined sizes. The default available sizes include 640×480, 800×600 and 1024×768, but you can also add a custom size to toggle the size of a particular window. To change window size, right-click on the Restore button or any of the four window tips and select a size.

The active window can also be resized by selecting a size from the system tray menu. Here, you can also select Configure Sizer option to access advanced options.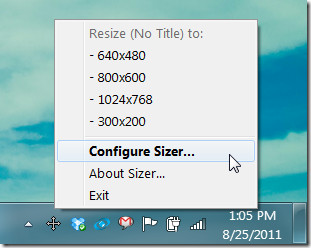 To add more sizes to the Sizer context menu, click Add and enter a custom width and height. You can also set a specific direction for the resized window to be moved at when it is resized. For example, selecting the Left option (from Move To drop down menu) for 640×480 window size will move the window to the left-hand side of the desktop, each time it is resized to 640×480. You can also enable/disable tooltip (when resizing windows), sizer icon (from system tray), along with window resizing snap size by checking the appropriate options from the given check boxes.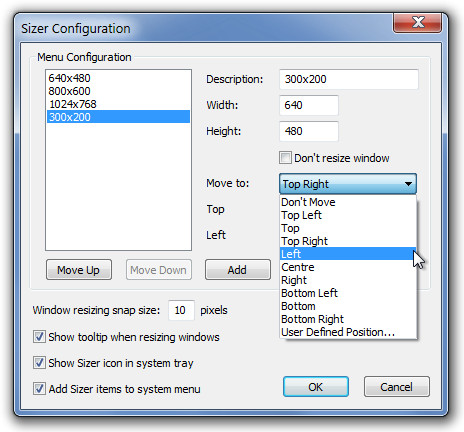 It must be noted that Sizer might not work with certain applications, you may consult the FAQs on the developers website to check out known compatibility issues. Sizer has been designed for compatibility with famous applications and also works with Windows Explorer. Sizer works on all versions of Windows, including Windows Vista and Windows 7.