Reveal Files Hidden By Malware (Using System Attributes) In USB Drive
Certain types of malware can hide your files and folders on a USB drive, resulting in data loss. Unhiding these files can be quite a hassle as the attribute is set as system instead of hidden. USB Hidden Folder Fix is a portable application, designed to thoroughly scan folders on a USB drive to unhide them. This can help you to regain access to your data and scan with your default anti-virus suite (i.e. if it fails to scan them in hidden form). Hence fixing the problem of hidden folders with infected files.
Normally, a plugged in USB will be  automatically detected, however, in case you have multiple USB devices plugged in, select the device to fix from Browse. Once a USB is detected, you can either click Scan and fix or Yes!Unhide the folders to fix hidden files problem.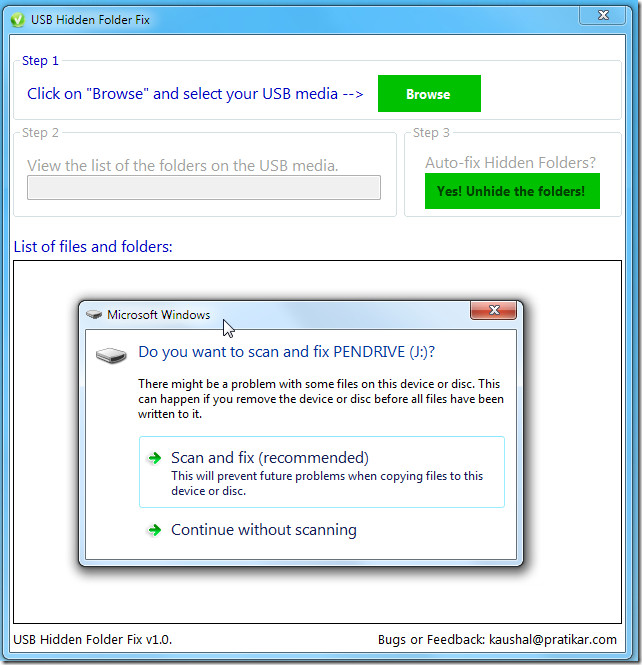 All files will be revealed shortly after the scanning and fix is complete. USB Hidden Folder Fix can also be used to unhide generic folders on a USB drive, but this may result in malfunction of the USB. Therefore, it should only be used for infected files which may be hidden by malware. In case you wish to fix a malfunctioned USB issue, go to Device Manager from Control Panel, select the right-click USB device marked with yellow sign and choose uninstall. Plug in the USB device again to start using it without any hindrance.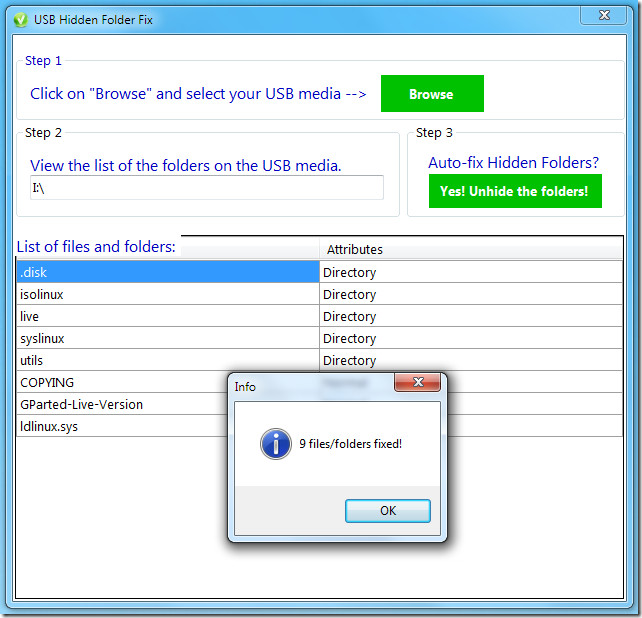 USB Hidden Folder Fix works on Windows XP, Windows Vista and Windows 7. Provided you have .Net Framework 3.5.
Download USB Hidden Folder Fix