Rise Sun – Turn Your Webcam Into Video Surveillance Security Camera System
Are you leaving your office or maybe planning to take a vacation. Security is something that everybody considers strongly. Instead of purchasing expensive video surveillance systems, you can now convert your webcam into a motion-sensing security camera without paying a buck.
Rise Sun is a free webcam motion-detecting software for Windows that can turn your computer into a video surveillance system. The motion sensing is so accurate that I couldn't resist trying it on myself. You can manually adjust the Sensor Sensitivity, Camera Performance, and Trigger Threshold. For the program to detect the motion more accurately, you will have to set the Trigger Threshold to medium.
Note: Rise Sun for Windows has been discontinued. You can check out previously featured TeboCam and Forevid.

In the below screenshot, no motion is taking place. Therefore, the motion detecting percentage bar is at 1%.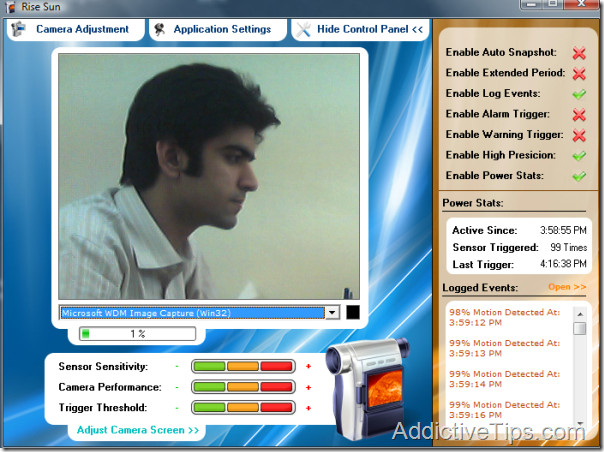 This time I try to move my head to and fro, as you can see in the screenshot below, the motion is detected instantly and the percentage bar is shown as 77%.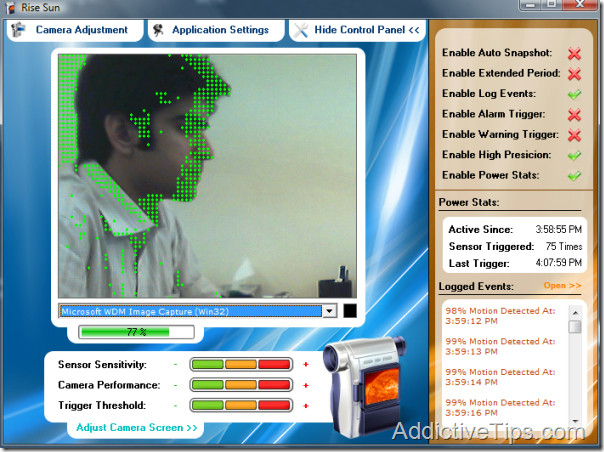 Awesome, right? And if you check the Enable Warning Trigger and Enable Auto Snapshot from the control panel on right sidebar, an alarm will go off immediately while minimizing all your applications.

Clicking the image button on the top-right corner will show you the snapshot of the intruder or anything that was moving in front of your webcam. All logged events are displayed below the right-sidebar. To select the destination where you want to save these logged events and auto snapshots, go to Applications Settings and manually enter the location.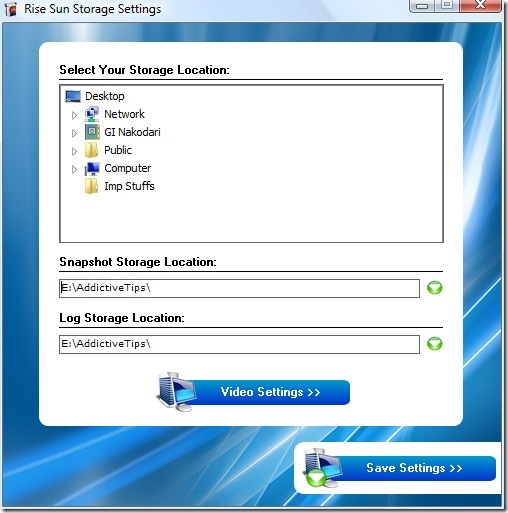 It does not require some technical knowledge to setup, just plug-in your webcam(make sure it's drivers are installed) and run this tool, that's all. It works on all versions of Windows. Enjoy!