RoboTask: An Effective Task Automation Tool For Windows
By automating system operations, one can save a significant amount of time in order to achieve efficiency and optimum task management. RoboTask is a useful application that equips you with a feature-rich task automation environment loaded with useful hotkeys for essential functions. It can automate a wide range of tasks sequentially whether be it simple execution or manipulation of system variables. It eliminates the need for batch file execution, offering you an easy way to run multiple applications scripts and commands in a required sequence. You can now ensure data integrity by automating backup operations as well as peak system performance by configuring automatic execution of useful tools like the disk defragmenter, data backup etc. Similarly, you can choose to run the tasks when the system is idle. In short, RoboTask monitors both the user needs and the system activity to optimize utilization at each end.
As soon as the installation completes, RoboTask executes instantly and presents a simple user interface. The toolbar gives you access to the essential features of the application such as create, edit, remove, run or stop tasks. You can also view results in accordance with filters and modes (like Enabled or Disabled tasks list) using the respective field and drop down menu. It is automatically loaded with useful demo tasks that are disabled for new users. These are presented in a listed format with emphasis on task name, status and last start columns. Each task is based on triggering events that result in an automated task execution. To activate a task, all you need is to right click on the relevant entry and select Enable from the context menu.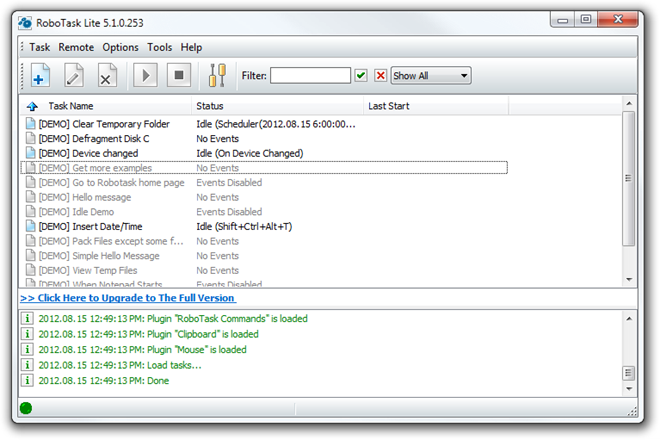 The Task menu allows you to perform basic operations like New, Edit, Delete, Run or Stop a task. Moreover, you can further export or import tasks in the form of task files, aiding in the documentation and record keeping. The alerts window at the bottom pane allows you to keep track of operations and task progress or error messages with respective time stamps.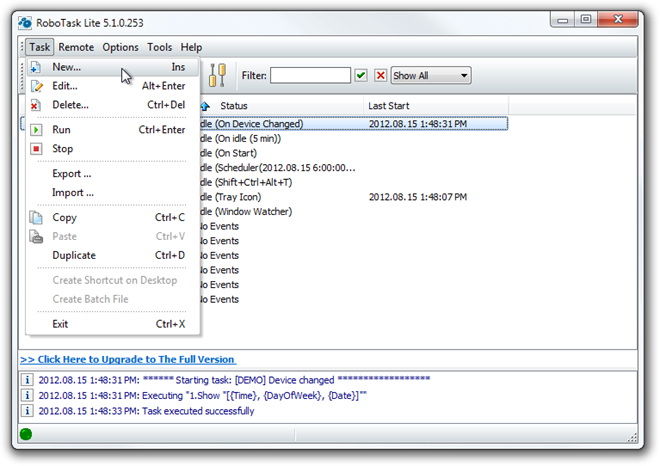 To view and edit the intricate details within a task, double click the respective entry and perform the relevant operations using various tabs covering Actions, Triggering Events, and Local variables. In addition, you can add in and associate observations or useful details related to the task in the Comments tab.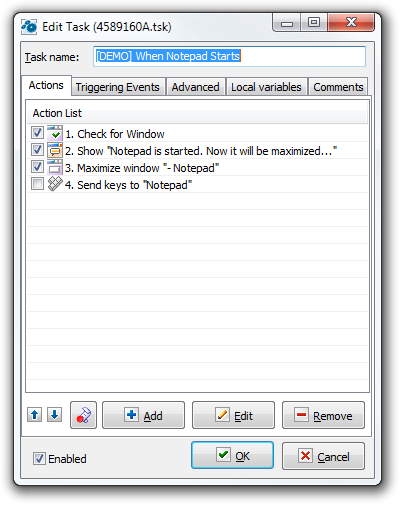 Furthermore, the program settings allow you to modify the interface as per the requirements. The Plug-ins tab provides functionalities for specialized operations and maintenance. To view details regarding a specific item, click the Information button, accordingly.
All in all, RoboTask is a powerful automation utility that is beneficial for both the novice and advanced users. We tested the application on Windows 7, 64-bit edition. It also supports Windows XP, Windows Vista, Windows 7 and Windows 8.