Romaco Timeout – Restrict The Time Users Spend On Your Computer
Are you looking for a way to control the maximum time that users are allowed to spend on your computer? Romaco Timeout is the the tool for you, it is a small and easy to use utility which helps you lock a child or user out of the account when the maximum set time for the particular user is reached. When a user reaches his maximum allotted time  on the computer then he/she is either logged off or the computer shuts down. The user will only be able to log back in if the administration password is typed, otherwise the user will have to wait until the next day for his quota to be reset. The software is designed to be automatic so it will require no administration after the initial setup.
The program must be started with Administrator privileges. Upon first  launch it will prompt you to set the administrator password.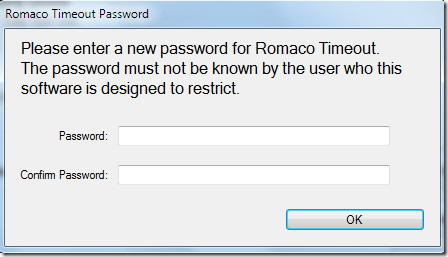 To begin using this tool, click the Enable Timeout checkbox. Timeout is user specific, so if you have more than one user account that you want to restrict, simply log into that account and configure the settings individually for each account. You may now select which mode to use. There are two modes available (Daily Quota and Pre-session Time Limit). If Romaco Timeout is to work without user intervention for every session, then the Startup Automatically For This User checkbox must be checked. The Daily Quota mode lets you set a time limit in hours and minutes for each day. The Per-Session mode lets you set a time limit in hours and minutes for the session. The Warn box lets you set the time at which the user will be sent the warning that his/her session time is about to end. Select the action when the time limit ends for the user from the Action Option. The buttons on the right side give you more control over the software, you can get help, reset  quotas, reset the administrative password, etc from those buttons.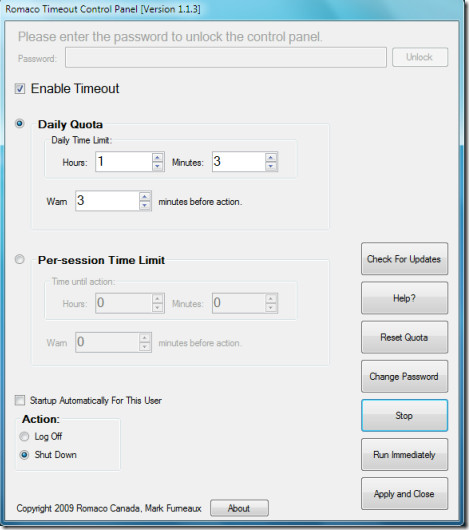 It works on Windows XP, Windows Vista and Windows 7. Enjoy!