rsrdp: Establish Multiple Remote Desktop Connections In Same Window
rsrdp is a portable remote desktop connection management application, which enables establishing multiple remote desktop connections by switching between them within the same application (window). You can create and connect between pre-defined hosts, and provides options to extend or contract the interface for making it easy to view remote desktop windows. What makes rsrdp different from the default Windows Remote Desktop is, that it provides a unified interface for all remote connections, with the utility to connect and disconnect all pre-defined hosts simultaneously.
To establish a remote desktop connection, go to File –> Quick Connect, and enter the hostname for the PC that you wish to connect to. You can enter multiple connections for connecting to remote computers, and create groups to organize the list of remote hosts. You can also connect or disconnect all specified hosts simultaneously, using the option in the context menu.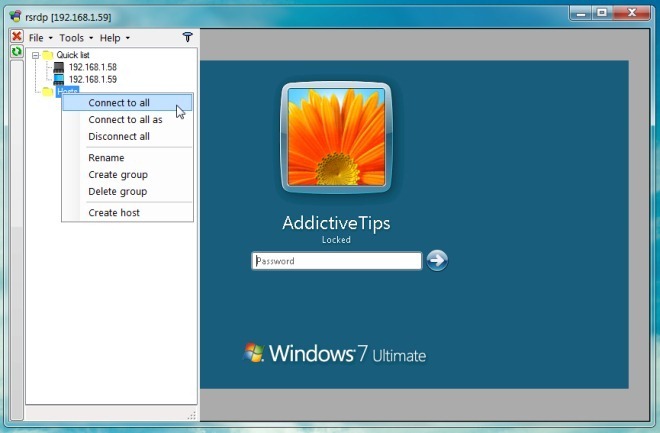 To see the remote window in an expanded format, click the sidebar to collapse it. This hides the section containing the hostnames and quick list. You can also close and refresh connections by using the Refresh and Close (x) buttons located next to the File menu.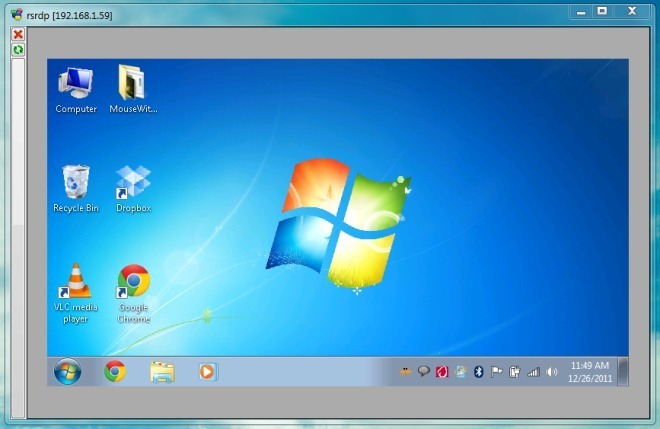 The only downside of rsrdp is, that unlike the default Windows Remote Desktop utility, it does not provide the option to control features like enabling/disabling font smoothing, desktop composition, menu and window animation, execution of programs after the initiation of a remote session etc. This increases the chance of facing a lag when you establish too many remote connections, as the network bandwidth can get choked. rsrdp is an open source application that works on Windows XP, Windows Vista and Windows 7.