Run Multiple Instances Of Desktop Apps From Windows 8 Start Screen
Windows 8 isn't all about a slew of cosmetic changes; Microsoft has also made a bevy of modifications under the hood. One of those changes, unfortunately, is that Redmond's latest operating system doesn't let you launch multiple instances of some programs when launched through the Start Screen. For instance, if Notepad is already opened on desktop, you can't quickly open another Notepad window from the Start Screen. This is quite a trade off for users switching from Windows 7, which easily allowed launching multiple instances of programs like File Explorer, Notepad etc. when deployed from the Start Menu. Though fret not – there's a way to easily resolve this nuisance, thanks to the free and portable Windows 8 Multiple App Launcher tool.
The application sports a nice looking UI that's seemingly inspired by Windows 8's metro-style interface. It doesn't need to be installed on your system either and runs straight from its EXE file. To get started, download the application via the link given at the end of this post. Once downloaded and launched, click the large 'Press Here For Apply' button at the center to let Windows 8 Multiple App Launcher do its magic. The application makes some instant changes – purportedly moving some files here and there or modifying some scripts – that basically turn on the missing multiple instances function for apps launched from the Start Screen.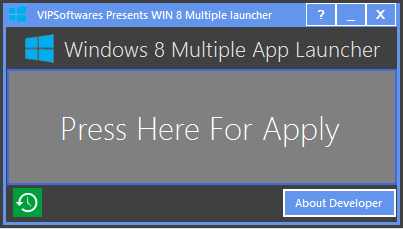 When done, a dialog window pops up, prompting that the changes were successfully applied and that you are now ready to launch multiple instances of supported programs and windows from the Start Screen.

That said, the application also prompts you to restart your system for the changes to come into effect. It should be noted that this method will allow only supported programs to be launched multiple times from the Start Screen. For instance, during testing I was able to launch File Explorer, Notepad and Internet Explorer without a hitch, but don't expect this to let you run multiple instances of those apps that are supposed to run in a single instant only by default. You may still try other applications that you were previously unable to deploy more than once. The good thing is that you can always revert back any changes should you need to, by clicking the Restore button.
The screenshot below demonstrates a few windows opened via Start Screen after enabling the aforementioned feature via this app.
Overall, it's an extremely useful tool that adds an important missing functionality in Windows 8. Testing of the app was carried out on Windows 8 Pro, 64-bit.
Download Windows 8 Multiple App Launcher