Salesforce Desktop File Browser [Windows]
File Browser for Salesforce is a desktop app for Windows that allow users to easily access their documents and other files stored in Salesforce. With it you can quickly view, print, and copy the files stored in Salesforce.
When logging in, it asks for username, token value, and password. It can also keep the local cache of the files, settings can be changed by going to File > Options.
According to the developer, attachments are organized under their Accounts, Campaigns, Contacts, Contracts, Cases, Opportunities, Products and Solutions in Salesforce. Documents are organized according to the Saleforce DocumentFolders.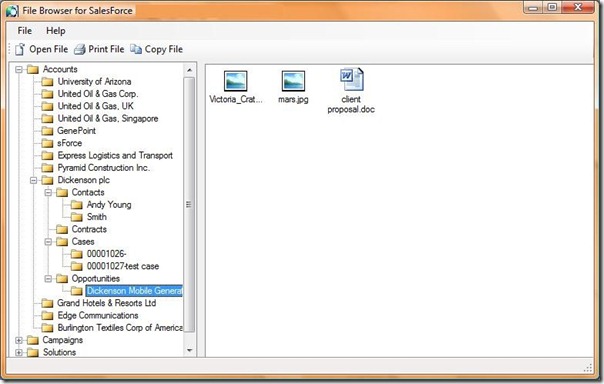 Since we do not have a Salesforce account, the screenshot above is from developer's page.
Download File Browser for SalesForce
It works on Windows XP, Windows Vista, and Windows 7.