Save Important Documents After Specified Time Interval With AutoSaver
Latest MS Office applications (Word, Excel, PowerPoint) offer enhanced auto-save features. Sadly, the same functions aren't found in other note-taking applications, such as Notepad. In the latter case, it is possible that you terminate important notes without saving the changes you made to them. In such cases, recovering the file is your only option, but it can be too time consuming. To prevent such a mishap, you should consider using AutoSaver, a miniscule application that saves all your documents automatically. The application supports any document  for which the hotkey Ctrl + s can be used to save the changes. You just need to specify a time interval and the application will save the document after the specified time has elapsed.
The application sits in the System Tray from where you can launch it by double-clicking the floppy icon.

From Save Interval drop-down menu, you can set the time interval ranging from 15 seconds to 10 Minutes.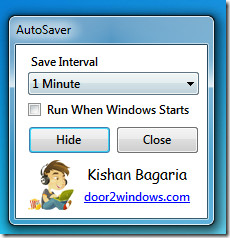 It is a useful application, which automates the task of saving documents, spreadsheets, notes and other files that support Ctrl + s hotkey.
It supports Windows XP, Windows Vista and Windows 7. Testing was carried out on Windows 7 x86 system.