Save Word Document To SkyDrive – Office 2010
Back in September we first uncovered a new feature in Office 2010 – ability to upload documents straight to Windows Live SkyDrive service. This features is available in MS Word 2010, Excel 2010, and PowerPoint 2010.
The latest version of Office 2010 includes the long awaited Save To SkyDrive feature which can be found in the Share tab under File Menu. For the sake of convenience we will show you the steps required to save a Word document in SkyDrive.
Go to File > Share and select Save To SkyDrive option.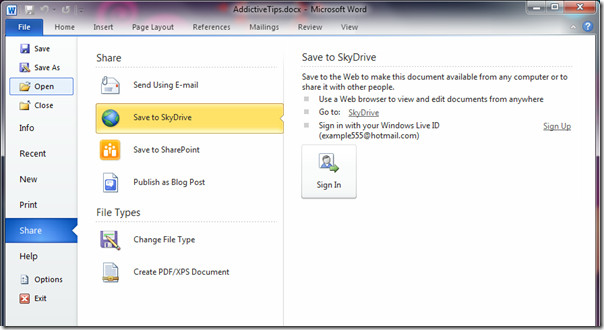 Now go ahead, click Sign In and login with your Windows Live ID. Once inside, it will display all folders in your SkyDrive account with an option to create a new folder. Now select the folder where you would like to save the document and hit Save As button.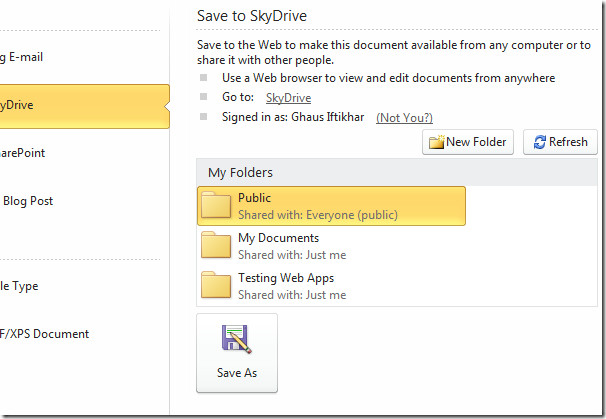 Now it will contact the server and after some time show the Save As dialog window from where you can select the format you want to save it in. When you hit Save, it will begin uploading the document to the server.

The Save To SkyDrive feature in Office 2010 is the final confirmation that Microsoft is transforming SkyDrive into a central destination for storage. You should expect to see more features in and around SkyDrive in the future.
Before you give Office 2010 a shot, make sure to read what's new in Word 2010, Excel 2010, and PowerPoint 2010. Enjoy!