Scan A Multi-Page Document, Convert It To PDF, And Burn It To Disk. All With A Single Click
Suppose you have a hardcopy of a document with 20 or 100 pages, you want to convert them to a PDF file and burn it to a disk, what will you do? The most common way would be to first scan the document page by page, then convert the images to PDF format one by one, join them using PDFSam, and finally burn them to a disk. Such a long method can take forever with a 100 pages or more document.
Update: Try using the new proper guide here.
If you have an ADF(Automatic Document Feed) Scanner, then there is an easier way to do it. ADF Scanner is a type of scanner where you insert pages of any document and it will scan them one after one automatically. QQScan2Disc is a free tool for Windows that uses ADF scanner to scan all pages of the document, converts them to a PDF file and finally burns it to a disk, all with a single click.
To begin, insert a blank writable disk and connect the ADF scanner with your computer. Now run this tool, you will be greeted by a Settings window, choose the scanner from the list, by right-clicking it and selecting Get Properties. You can then select the Color Modes, Resolution, Image Format, and other settings.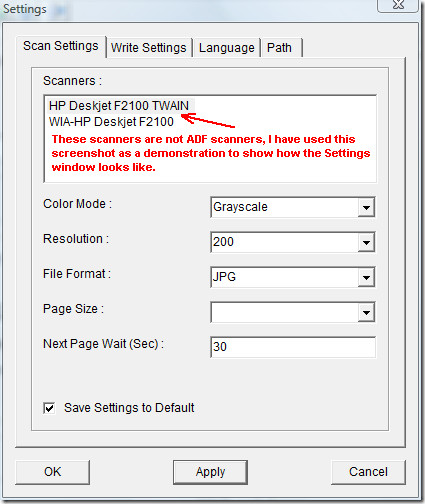 You can also change the Write Settings and choose the path where you want the PDF file to be saved by going to their respective tabs. Once all settings are done, click OK.
Note: By checking Save Settings to Default checkbox, all settings that you change will be saved and made default. Next time you load up this tool, all settings will stay intact.
On the main window, hit the Start Transaction button and your scanner will start scanning the pages, this process will stop when all pages are finished from the scanner. The next process will be to convert it to PDF, and the final process will be to burn it to a disk. All of it will take place automatically.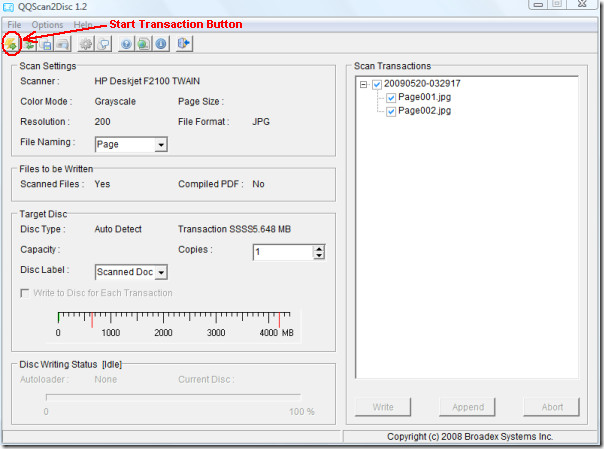 Now all we need is a tool that can let us scan pages one by one with an ordinary scanner, and finally merge the pages into one simple PDF file. This is because not everyone has an ADF scanner. This tool works on Windows XP, Windows Vista, and Windows 7. Enjoy!