Scan And Convert Documents & Images Into PDF And PS Formats
If you ever find the need to convert your pictures to PDF documents then SuperGeek Free JPG To PDF Converter is worthy of a shot. It is an easy to use, wizard-based utility for Windows, which can easily convert JPEG files to PDF. Contrary to its name, it is basically designed to convert all widely used image formats, such as PSD, JPG, TIF, BMP, PNG, EMF, PCX, TGA etc., into PDF format. The conversion process is very much easy and lets users set file compression and page size before converting the images. Not only does it convert image files to PDF format, but it also allows creating PS (PostScript) file of the selected image. Apart from choosing an image file that might be stored on your Hard Drive or other storage medium, you can choose to scan a document via built-in scanner feature to grab an image and directly convert it into PDF format. Most of the free tools leave a watermark after the conversion process and force you purchase the full application to get rid of any watermark. The story here is quite the opposite though, as it doesn't watermark images while converting them into PDF documents.
After installation, run the application to start the conversion wizard. It will ask you to select the type of output file (PDF or PS). Just select the required format and click Next to continue.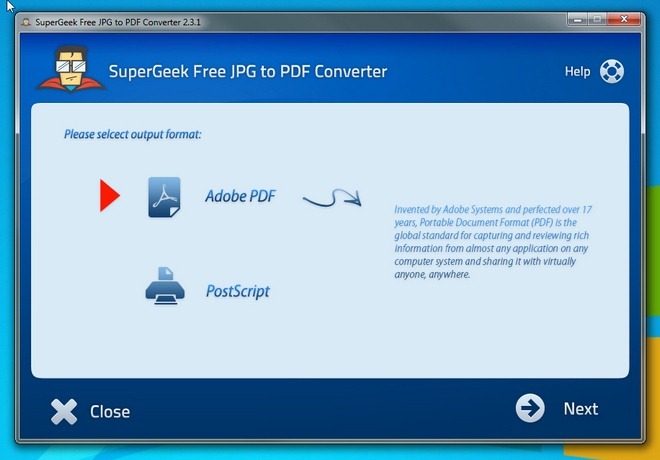 Now, you need to choose an Output Location, Paper size (for example A4, A3, Letter, Legal etc.) and Compression (RLE, G3Fax, G4Fax, Jpeg). When you have configured the options according to your preferences, hit Next to jump to the proceeding step. (Please note that you cannot jump back to the previous step, so be careful while selecting the options or you may need to start ove).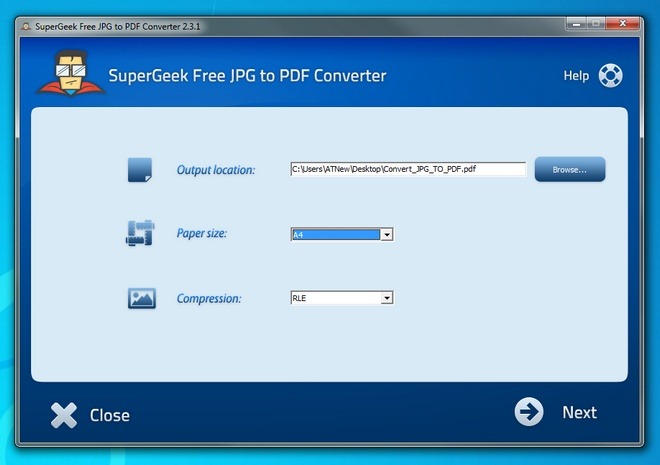 Next up, choose your file(s) either by clicking New Page from File or New Page from Scanner. Selecting New Page from Scanner will directly access your document from a connected scanner device.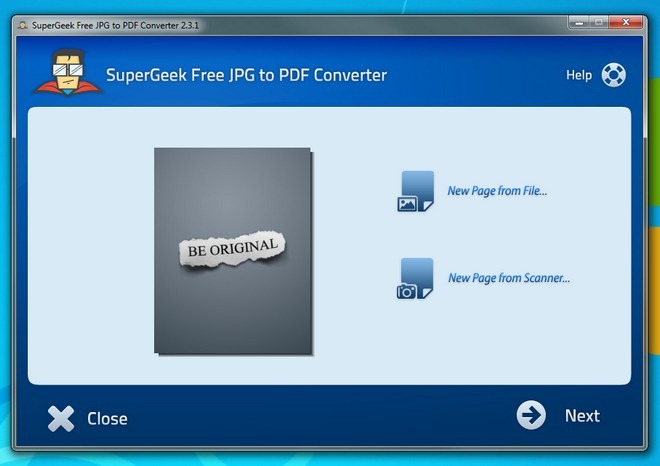 Click Next to complete the conversion process. Once done, you can either close the conversion wizard or hit Another to choose and convert a new image/document.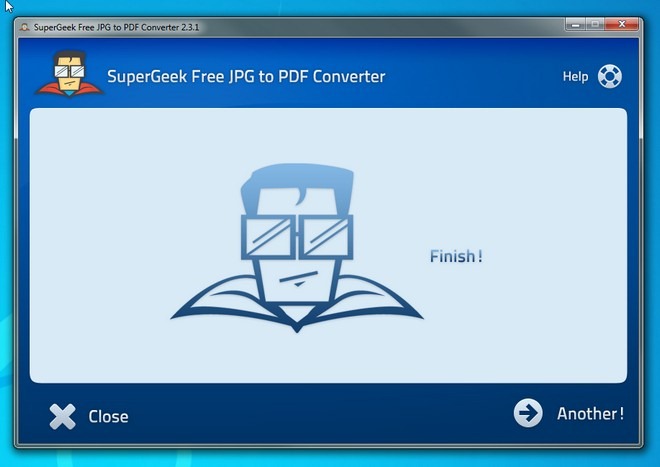 Overall, SuperGeek Free JPG to PDF Converter proves to be a fast and reliable image-to-pdf conversion utility. It is available for free and works on Windows XP, Windows Vista, Windows 7 and Windows 8. Testing was done on Windows 7 Ultimate Edition.
Download SuperGeek Free JPG to PDF Converter