Scan Files For Malware On The Go With VirusTotal Uploader Portable
With millions of files available for download in the internet, it is very important for you to have an antivirus installed on the systemyour computer in order to keep it safe and secure from viruses and other malware. While downloading executable files, one should be extremely careful since installing virus-laden program can lead to data loss and corruption. VirusTotal is a service that allows people to check a file against a large number of antivirus services and detect if there's anything wrong with it. Today, we found a third party portable app for the service called VirusTotal Uploader Portable that lets you check locally saved files, online hosted files and even running processes on the VirusTotal service.
Even if you are careful during downloading files, just visiting websites can put you in harm's way due to the temporary data downloaded during browsing. A good antivirus works as a shield as well as a filter, and scans each and every bit of data passing through, or getting stored in your computer. For further security, you can use a third party firewall that protects the network from all unwanted outbound and inbound connections. These measures are sure to protect you from most amount of viruses and malware, but since each antivirus has its own detection method and virus definitions, sometimes, a particular antivirus is not able to detect a specific virus. That's why testing against multiple antivirus services can be a greater security hedge.
If you are using a portable application suite such as our recently featured CodySafe for carrying your favorite apps with yourself on the go to use from any computer, you can't always rely on the antivirus solution installed on those computers. That's why carrying a portable antivirus of your own handy on the same flash drive can be really useful.
Getting back to the tool, even though it's a portable package, you will have to install it to a folder. After that, you can copy the complete folder and use it as a portable application. The main interface lets you choose a running process for checking if it's a virus, upload locally saved files, or enter file URLs and upload them directly to the service for scanning. You can add files by just dragging and dropping them over the main interface.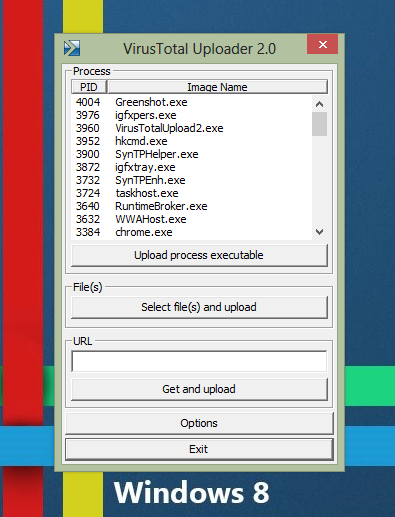 In order to check a file through its URL, just paste the URL in the application and click the 'Get and Upload' button to start the process. As soon as the file is found, the VirusTotal results page will open in the default browser and display the results.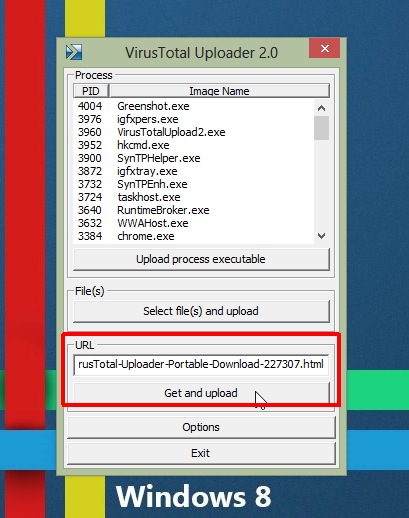 The options window lets you select whether you want to store any downloaded files through the URL feature on the hard drive at all or not, download them only temporarily (delete them after uploading to VirusTotal) or permanently download them to a specific folder.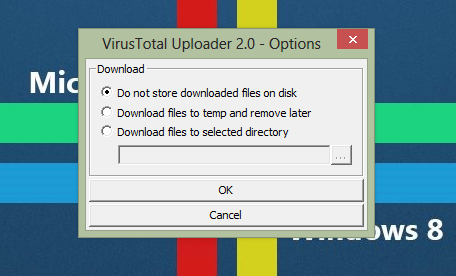 VirusTotal Uploader Portable works on both 32-bit and 64-bit versions of Windows XP, Windows Vista, Windows 7 and Windows 8.
Downlaod VirusTotal Uploader Portable