Scan Suspicious Files With 31 Different Virus Scanners Using X-Ray
Sometimes, even an anti-virus application cannot detect malware, as the virus definition files for a new threat may not have become available. In such a case, one can use web services like VirusTotal to scan for suspicious files. X-Ray is a portable application that allows scanning suspicious files using 31 different anti-virus scanners. The scanners used for checking specified files include Avast, AVG, Avira, Bitdefender, ClamAV, Comodo, Symantec, etc. Using this application you can either send the file to VirusTotal or to individual anti-virus scanners (e.g. AVG). The virus scan result can be acquired via email by each anti-virus service providers. This delivers exclusive anti-virus results from reliable sources, which enables better analysis of the scanned file.
To get started, drag and drop the respective file to X-Ray, and select the anti-virus services that you wish to scan the file with. Alternatively, click Send to VirusTotal.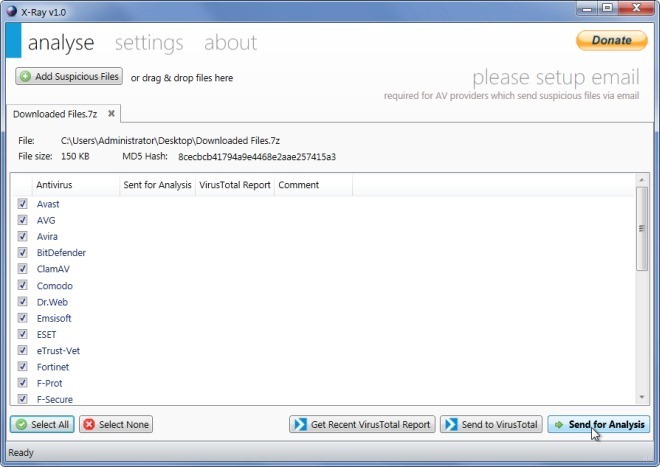 This will send the file for analysis, and get it scanned with different anti-virus scanners via the cloud. You can click get Recent VirusTotal Report option to extract the VT report.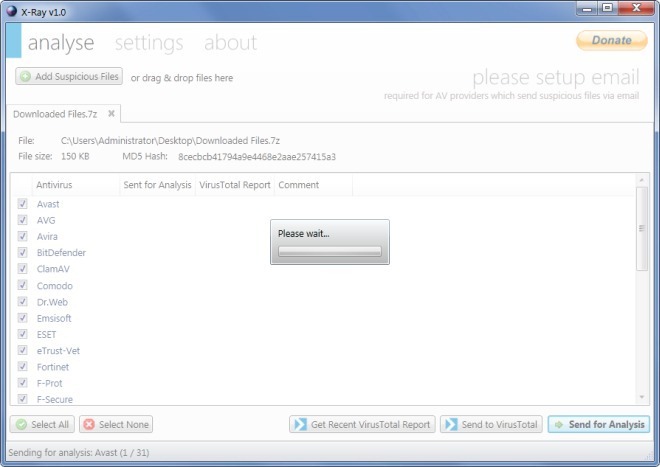 You can also change the mechanism for getting information about the analyzed files, i.e., via email or by entering the VirusTotal API key. You can get your very own VirusTotal API key by signing up for a VirusTotal account. The key is available from the VirusTotal Inbox after you have activated your account.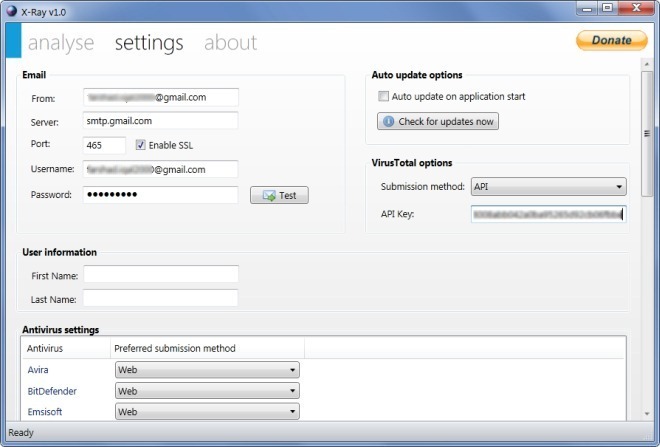 You can also check out the JottiQ virus scanning application, which provides similar functionality to X-Ray. However, unlike X-Ray, JottiQ does not provide the option to send a file directly to an anti-virus company for getting it exclusively scanned. It rather relies on the current virus definition updates of numerous anti-virus applications for scanning the selected file. In case you would like to scan entire websites for malware, then, other than using the VirusTotal scanner, you can also opt for URLVoid web service. X-Ray works on Windows XP, Windows Vista and Windows 7.