Schedule Application Run And Windows Functions With Blitz Planner
Blitz Planner is a nifty time scheduling application which comes useful in situations when scheduling an application run or other system functions are required. It offers a minuscule interface with all the necessary options to schedule an event.
The usage is pretty simple, you would just need to set the time and specify an action. Time can be set in two way, you can specify time in hrs/min/sec format (supports both notations) or set counter to trigger the event after the specified amount of time. It offers list of pre-defined events which includes; Shutdown, Reboot, Log Off, Play a sound, Open a webpage, Message display, etc. Once you are done with settings, click Start the timer to begin the countdown.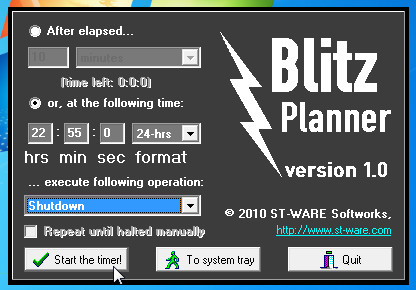 It sits in system tray to let user schedule a task whenever needed. Out of many time scheduling applications, it offers absolutely no unwanted options to confuse you, just launch the application and schedule a task in only two clicks. It runs on all Windows based OS, testing was done on Windows 7 x86 system