Schedule Run Any Program Or Action Over The Network Or Local Computer
Are you looking for a simple way to shutdown, restart, log off, sleep, or lock computers over the network at any specific date or time? Or maybe you simply want to run a program on multiple computers over the network at a certain time? We have covered two different types of tools before – one that lets you schedule run programs and one that lets you perform shutdown and other related tasks.
Simple Shutdown Scheduler is a dead-simple tool for Windows that does both. It can run a program and at the same time perform an action on multiple computers over the network. Not only shutdown but also restart, power off, log off, sleep, and lock computers over the network. To perform an immediate action, just run the program, select the action from the list, enter the computer name and login information, and click Go.
Note: To perform an action on the remote computer, check the Remote Action checkbox. Otherwise it will schedule the task on your local computer.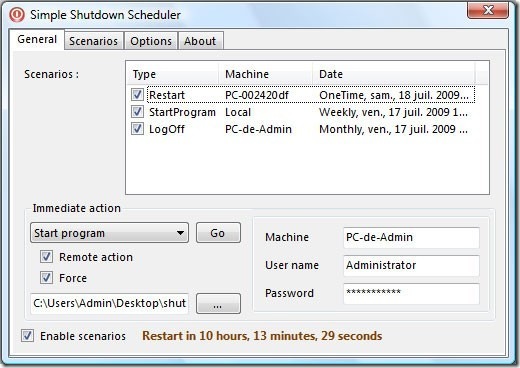 The screenshot above has been taken from developer's website
To add a task, go to Scenarios tab, select the action and it's options, enter machine details(if remote action is enabled), and finally select either the date/time or the countdown.
You can also select to start this tool when Windows start, start it minimized, start with scenarios enabled, etc from Options tab. So what makes this tool different from the rest? Simplicity. It is the most straightforward and easy-to-use tool I have ever seen that lets you schedule run a program or an action instantly.
Download Simple Shutdown Scheduler
It works on Windows XP, Windows Vista, and Windows 7 with at least .NET Framework 2.0 installed. For the Remote Action option to work, WMI(Windows Management Instrumentation) must be installed on the remote machine. Enjoy!