Screen Locker – Pre-Set Time To Automatically Lock Your Windows Screen
We often require locking the computer screens periodically to make sure that no one can misuse the computer in our absence. It can be quite a hassle to lock the screen time and again and then to enter a password to unlock it. Moreover, some people prefer not to keep a password which creates a privacy issues even for locked computers. Screen Locker is a portable application which provides the option to schedule locking your Windows screen. When the main screen is locked, it also disabled logging in to the computer until the specified time limit is reached. This ensures that no one can mess with your computer in your absence even if it is not password protected or if someone has your password.
Just launch Lock Screeen and select a time frame to lock (pause) the computer, followed by a release time. To Pause option is the time after which your computer screen will be locked, whereas, the pause (minutes) is the time after which it will automatically be logged in again. You can also click Block to quickly lock the system, after which it will be unlocked after the specified time frame (e.g. 5 minutes).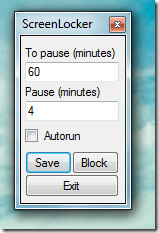 The screen is not locked using the default Windows locks screen mechanism but is rather Paused using Screen Locker. Unfortunately, the screen is also visible which can be an issue if you have some windows maximized as you might want to protect your work from prying eyes. Nonetheless, the utility of Screen Locker mainly depends on the usage scenario and might be quite handy for users who would like to schedule the lock down and login of their computers, along with the option to avoid keeping a password. For example, a schedule can be set to lock the computer when the lunch break starts and to unlock it when the break time ends. This way, you can ensure that no one can access your system in your absence, even if it is not password protected.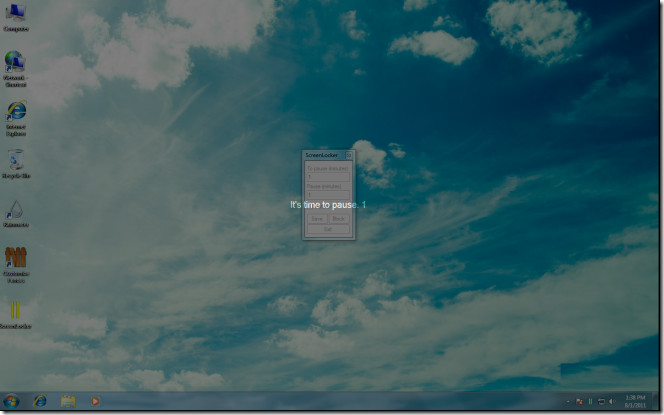 Screen Locker works on Windows XP, Windows Vista and Windows 7.