Screen Shooter – Windows Print Screen Alternative
The Print Screen is the most commonly used button to take screenshot of the desktop but the downside is that it doesn't save the screenshot to a folder automatically. We need to paste it in an image editor, such as, MS Paint and then manually save it. Screen Shooter is a simple light-weight tool which accomplishes such a task easily.
This utility sits in the system tray and lets you configure a shortcut key to capture the screenshot of your desktop. It also saves the captured screenshot in the specified folder in the .jpg image format.

In order to configure the shortcut key for screen capturing and specifying the destination folder to save these images, right-click its system tray icon and choose Option, here specify both settings.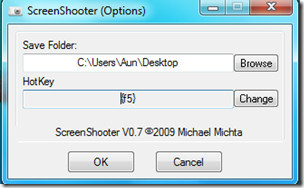 Download ScreenShoter
If you are looking for a tool with enhanced screen capturing features then try out YASCU. ScreenShooter works perfectly on Windows XP, Vista and Windows 7. Enjoy!