ScreenParts Lets You Take Screenshot Of Any Screen Region & Copies It To Clipboard
ScreenParts is a portable screenshot taking application that captures and saves screenshots to the Windows clipboard, after which they can be pasted to another application such as MS Word, MS Paint, an email compose window, etc.  Alternatively,  you can select a directory to save the screenshot in a number of formats, including PNG, JPEG, GIF, TIFF, BMP, WMF, EMF and EXIF. Unlike other screen capture tools, ScreenParts provides an overlaying layer that can be extended and placed on parts of the desktop that you wish to capture. The range of different formats that ScreenParts provides to save screenshots is more than what conventional and famous screen capture tools like Greenshot and Shotty have to offer.
To capture screenshots, launch ScreenParts and adjust the overlaying window over the part of the desktop that is to be captured. You can expand or contract the overlaying window according to your requirements. Hit the Enter key to capture the screenshot.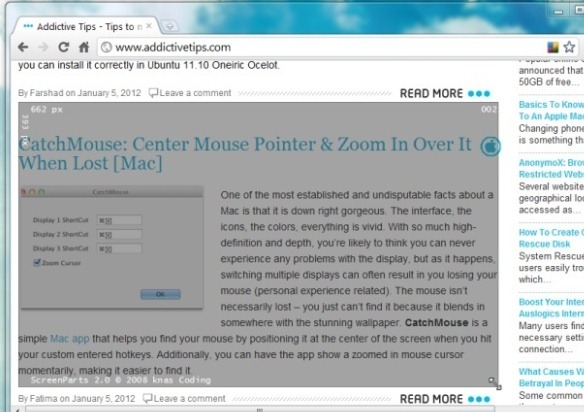 You can schedule screen captures, set default size/location for screenshots, access application settings and open the screenshot capture directory from the system tray menu.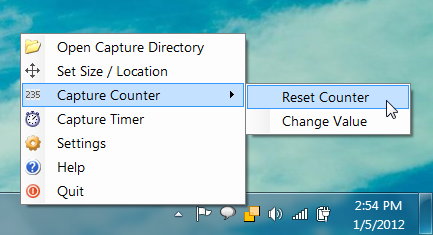 The General Settings tab allows changing the background color, foreground color, border color, opacity, global hotkey, as well as enables configuring ScreenParts to start with system startup. By default, all captured screenshots are copied to clipboard, and not saved in any directory; you may select a directory for saving screenshots, along with a default image format, from the Capture Settings tab. Furthermore, you can also enable file name prompts, or select a pre-defined screenshot naming sequence.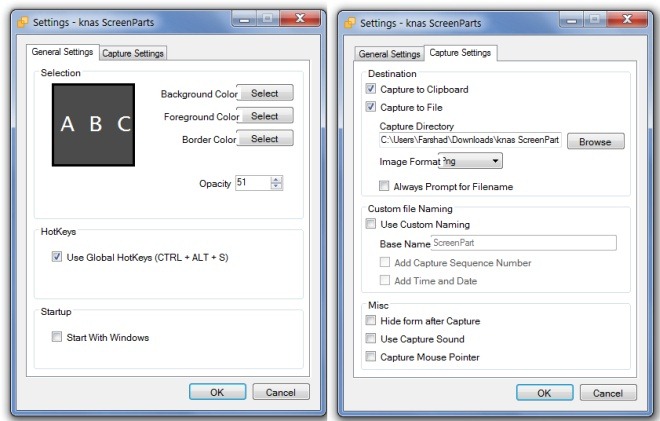 ScreenParts works on Windows XP, Windows Vista and Windows 7.