Screenshoter Takes Screenshot Of Everything In One Click
Screenshoter aims to become a mainstream standalone screenshot tool with minimum footprint and clutter. From games to any application, it can take screenshot in just one click. It is portable utility that can take screenshot of both full screen and selected area. Currently it can only save the screenshot as either Jpg, Png, or Bmp format.
Ofcourse it does not compete in the same category as some major screenshot tools such as ZScreen and others, but is good enough as a stand-alone tool.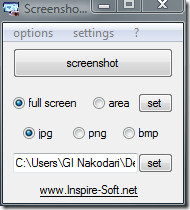 You can select the Jpg Image Quality, option to show cursor, etc by going to Options.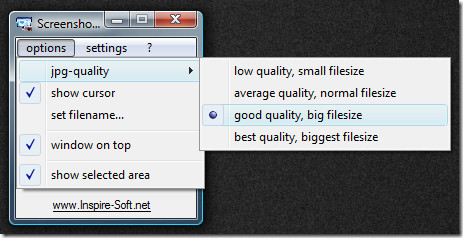 So you must be wondering how can you take screenshot while playing a videogame? It's simple, just hit Print Screen button and it will automatically grab the screeenshot and save it to the selected output directory. And yes, don't forget to press Set when changing the output destination folder from the main window. Watch the following video to get an idea how this tool works.
It works on all versions of Windows. Enjoy!