Scriptogr.am Uses Dropbox To Create Markdown Document-Based Web Log
Markdown language, despite being not as powerful as other markup languages such as HTML, XML etc, allows users to create web document in easy to read & write text format, which complies with all W3C standards and rules. Unlike HTML, XHTML, and other structurally valid web documents, markdown document requires following only a few code syntaxes in order to publish them on web. Unlike other languages, this light-weight, general-purpose language doesn't require any dedicated compiler to render the formatted text. Scritogr.am is a newly launched service that lets users create their markdown document-based personal blogs/webpages without having to manually configure web page-related settings.
Since markdown language is used as underlying technique, all you need is create a web page by following the markdown language syntax to add posts to your blog. It saves the markdown documents in your Dropbox storage, allowing you to make changes to your posts anytime you want. After connecting Dropbox account with the service, it creates a sample markdown (.md format) document in Dropbox\Apps\scriptogram folder, and publishes it, so that you can understand the usage of markdown language by just taking a look at published sample post. Once you understand the syntax usage, it will become fairly easy to create markdown documents and publish them as separate posts on your blog.
To begin, visit Scriptogr.am and sign up for the service. Once done, connect your Dropbox account and grant direct access to Dropbox/Apps folder. The next step requires adding personal information including username, full name, and description of your blog. Hitting Next step will create a sample document in your Dropbox/Apps folder, and then publish the sample post. You will be taken to your web log home page, where you can check default structure of the blog. Scriptogram doesn't include themes and color scheme to change the default look of your blog, but since it's based on markdown language, you can create a stylesheet document (CSS) to tweak with default font size, font color, background color and other sections of your blog.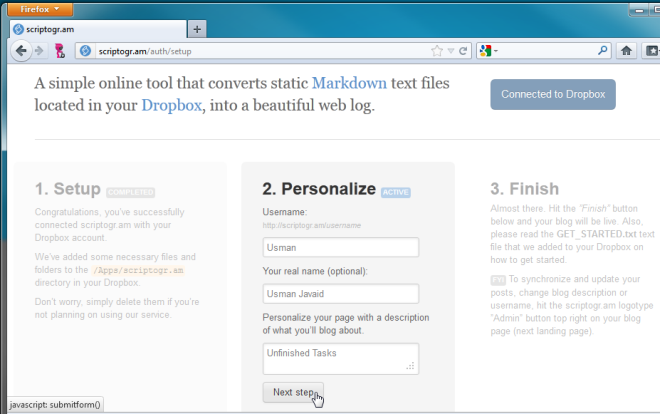 You can check your blog URL address from address bar, and verify other details including your name and blog description.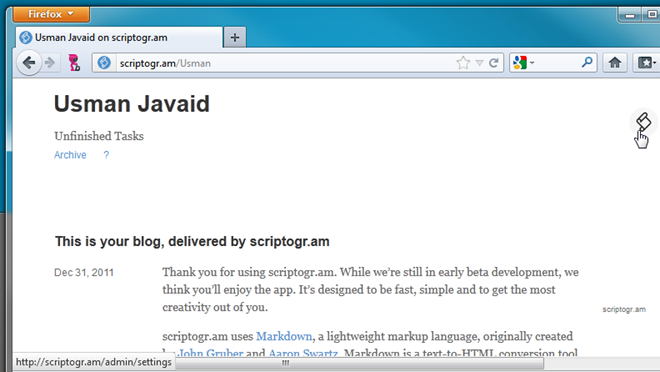 The Administration panel can be accessed by clicking icon present at top-right corner. The Administrator panel allows you to edit the username and blog description, check total number of published and un-published posts, Synchronize, i.e publish all un-published posts, redirect your blog address to custom domain, and access in-built CSS editor.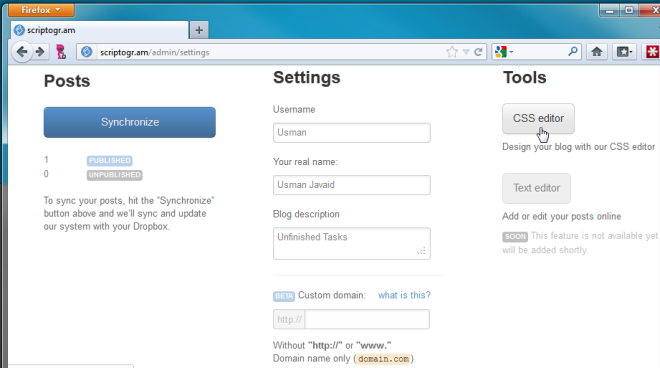 Even if you aren't familiar with CSS stylesheet syntax, you can easily change numerous blog elements' properties by tinkering around with their values. Before you start tweaking the design, it's recommended to backup the default CSS stylesheet at any convenient local location, so you can restore the default stylesheet properties back.
To publish a post on your blog, navigate to Dropbox/Apps/Scriptogram folder, and create a new markdown document in MD format. If you're creating a markdown document for the first time, check out markdown basics, syntax usage and rules mentioned here. Once you save the markdown document, open the Scriptogram Administration panel, and hit Synchronize to publish the post on your blog.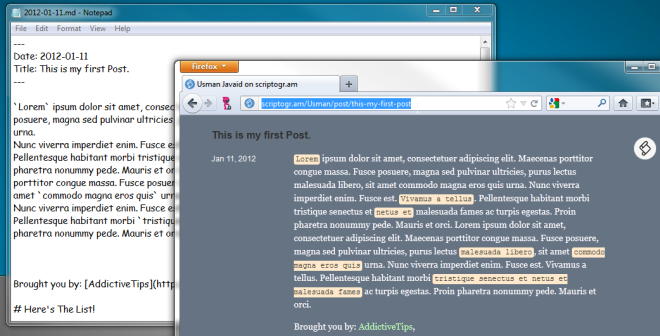 As of this writing, Scriptgr.am is in beta testing phase, so you may run on some interface-specific glitches while adding publishing your posts. Hopefully, developer will fix this issue and add more blog management related features in next iteration. The online text editor is yet to be incorporated into Admin panel; it will let you write new posts and edit existing ones from within your browser.