Scrybe Adds MultiTouch And Gestures To Laptop Touchpad [Windows]
Are you a mouse user or prefer fiddling with touchpad? If you're latter, do you like poking gestures or let me re-phrase it by asking, have you always wanted multi-touch support on your notebook's touchpad?
Synaptics Inc. which is a daddy in developing user interface products has launched an extension of its Gesture Suite that supports several operating systems. It means you can now zoom, flick, rotate, and scroll your favorite content with just the tip of your finger (Or should I say fingers)? This wonderful tool is called Scrybe which allows you to manage complex PC tasks with simple TouchPad interaction but the best part is that it allow users to adds a series of user-customizable gestures that can be used to perform actions such as launching an application, visiting a website, search, control playback and so on.
Scrybe supports an array of multi-touch gestures, including multi-finger operation for multitasking. You can flick three fingers to rapidly move through documents, two fingers to twist & rotate images, and one finger zoom pinch to shrink and enlarge maps, photos, and browser text. It also has spiral scrolling to continuously scroll through long documents by moving your finger in a spiral, and of course linear scrolling to move up and down in documents. All these actions are performed by activating a drawing mode and then tracing certain patterns on the touchpad. So it is important you memorize the motions you use most frequently for Scrybe so it can actually be used in full swing.
In a nutshell, it can perform all the major windows operation through the touchpad. When you first start Scrybe, you'll be landed on a control panel.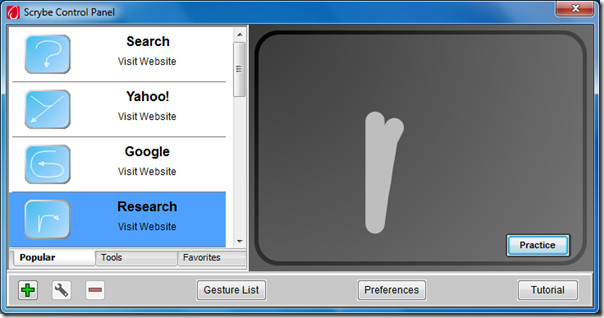 It comes with a default gestures list covering almost everything you can think of when it comes to browsing the web & daily desktop operations. It also allows creation of your own gestures by adding the name & type.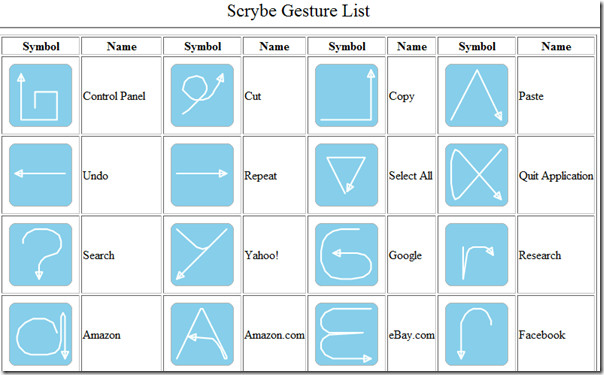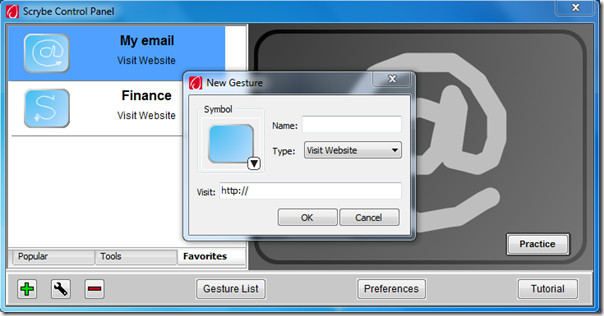 In the preference window, you can select options like sound and shortcuts.
It works on Windows XP, Windows Vista, and Windows 7. The only requirement is that you should have a laptop with Synaptics touchpad.