Seafile Is A Private Cloud Storage & Collaboration Solution For Teams
Seafile is a cloud service that allows you to create and share a private cloud library of files with friends or colleagues. Files get synced for all users, so that if one person edits a document or makes any changes to it (if they're allowed to), Seafile automatically updates the changes for everyone in the group. I know this sounds trite, but sharing files via the cloud is an amazingly convenient thing. Still, sometimes you don't want or need to bring the internet into the picture just to share files between colleagues and friends who are on the same local network. To accommodate this, Seafile also allows you to create your own personal cloud for sharing files between computers in the same organization using its open-source server that's available for Linux and Raspberry Pi. It's safe, because you use your own servers, and reliable because Seafile saves everything and you can even restore stuff you've accidentally deleted. It's also secure because the files can be encrypted with a password. And finally, it's mega-convenient, because all users on the network using Seafile get to sync their work with each other simultaneously.
To get started, download Seafile from its website (linked below). Follow the installation setup, and once done, you'll get a tray icon shaped as a little orange 'S' with an aqua tick mark over it. Click it once and you'll go to your Seafile admin page (via Chrome). Right-clicking the icon shows the following context menu.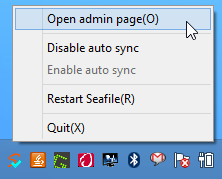 You can go to the admin console from here, too. 'Disable auto sync' will immediately stop syncing the shared content at your end. A little pause sign will replace the tick mark in this case, so you don't necessarily need to be on your Seafile page to know whether your files are currently being synced or not. To start syncing your files again, click 'Enable auto sync', and the icon will return to its normal state. All syncing takes place automatically in the background, and you are notified of any changes by a notification bubble over Seafile's tray icon.
If Seafile isn't responding or syncing your files well for some reason, try refreshing the application from 'Restart Seafile'. The tick will be momentarily replaced by a cross sign to let you know that Seafile is inactive, before it restarts. The 'Quit' option exits Seafile and removes its tray icon. You can launch it again through its desktop shortcut.
Let's now take a look at the Seafile admin page.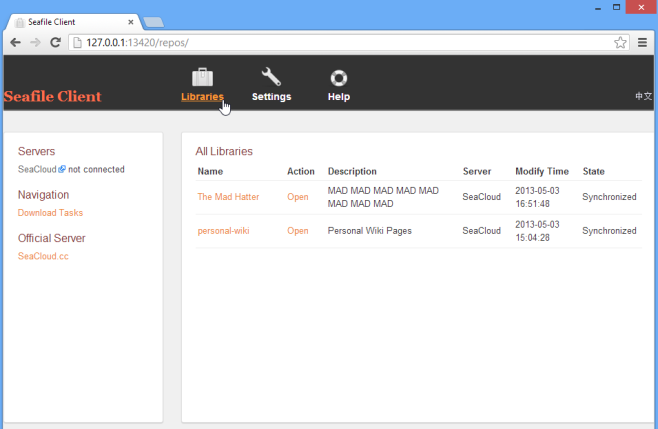 Seafile basically lets you create libraries of files, and groups of users to (optionally) share them with. You won't have any libraries here at the start; the ones you see above were created by me from 'Download Tasks' under 'Navigation'. You will need to create a new account in order to use Seafile's web service, but you can check out its features by using the demo account via the 'Try It Now' button on Seafile's website.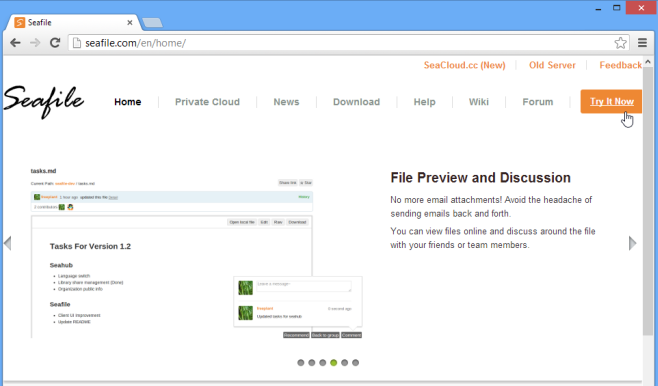 Go ahead and explore the site a bit. The 'Home' and 'Private Cloud' sections offer some details about Seafile and comparisons between different pricing plans, if you're considering using a paid version. The free version I'm using gets me 1GB of storage space, and I can create 3 different groups, with up to 6 members in each. This isn't as good a bargain as most other options available out there such as Dropbox, SkyDrive, Google Drive et al. Though its major plus point is that you can sync different libraries with different groups of users, share read-only libraries that other users can download but not modify, and encrypt your files with a password to limit people's access however you choose. Also, like Google Drive, multiple users can edit a file simultaneously; if your edits overlap each other, you can save both files separately as well. The 'Help' section offers more information about how to work with the libraries you upload and share files between users.
Here are some libraries already present in Seacloud, viewed in its demo web interface. Try toying with them a bit to get the hang of what Seafile can do.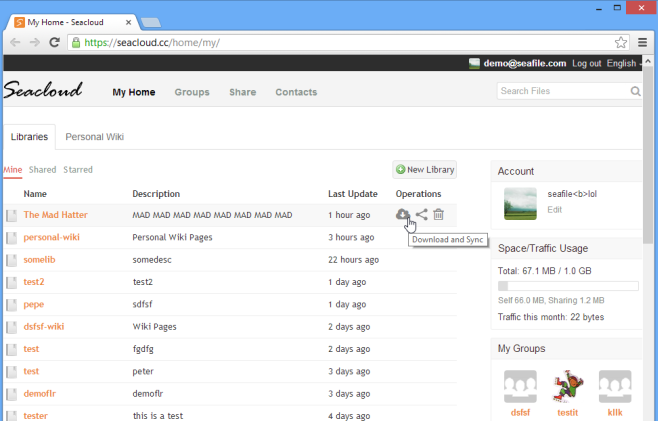 At the top, you can see the two libraries I've made. Since this is a communal demo account, lots of other users have created their own as well. Information about the account, such as your groups and storage capacity, is listed on the right-hand side. Click the 'New Library' button to create a new library, which you can edit by clicking its title on the list, in order to add or remove files. To download your library, click the download button that appears when you hover under 'Operations'. Using the 'Share' option, you can give a group of users access to the library, which could be writable, or read-only. Lastly, 'Delete' will remove a library from all synced devices.
If your team's storage or group requirements exceed those offered in the free plan, Seafile's web service offers reasonably priced paid plans that bump up the storage to up to 100 GB, and increase the number of groups allowed, as well as the number of users that can be in a group. Alternatively, you can choose to download the free and open-source Seafile server and run it on your own Linux or Raspberry Pi computer to have a private cloud for your team with the same features, and without any limitations other than those of your server's storage space.