Search Amazon Products By Price
Amazon Search By Price is a small add-on for Firefox that lets you quickly search for any products between a specific price range. Unlike other add-ons, it is 100% accurate and doesn't show the products that are outside the defined range.
Update: Amazon Search By Price has been discontinued. However, you can use Ookong to check price history of products and get price drop alerts from Amazon.
It adds a small dropdown menu button before the address bar so that you can quickly search for a product.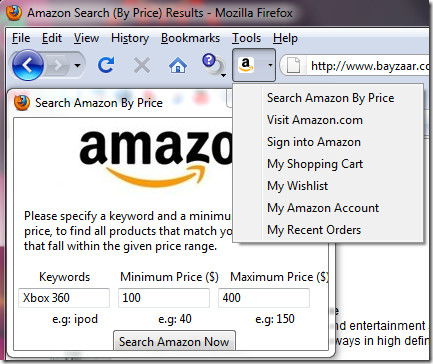 Apart from the basic feature, it also includes some quick links to access various functionalities in Amazon. It doesn't take you directly to the Amazon search page, instead it opens a Bayzaar page where you can find all the products. They are an affiliate so I have reasons believe they might be getting a commission on every purchase.
Note that while entering the minimum price and maximum price, do not enter the sign '$' or it wouldn't work. Simply enter the numbers(all prices are in $).
For more, also try out Amazanian, an online service where you can search for products that come with free online sipping. Enjoy!