Easily Search And Index Shared Files And Folders On Large Network
Running a network is never an easy task, especially those with an abundance of shared files. Looking for a particular file or folder could become a next-to-impossible feat, where there can be thousands of files and folders accessible over the network of even a medium-sized corporate setup. For local disks and file systems, you get the search option – even if in the form of Windows' own search (which, by the way, is pretty decent in Windows 7) – but the same cannot be utilized for cross-network lookups. Network Search Engine answers exactly this issue.
The software is a self-contained, index-based network search engine and crawler that indexes all shared files in a local area network (intranet) and provides users with the ability to locate necessary files within a few seconds. Due to its indexing ability, the software is really fast as bringing up search results.
When you launch the software for the first time, you are presented with the administrative control panel, which lists configuration options in nine different divisions. These are General, Advanced, Scheduler, Computers, Folders, Files, Database, Event Log, and Web-server.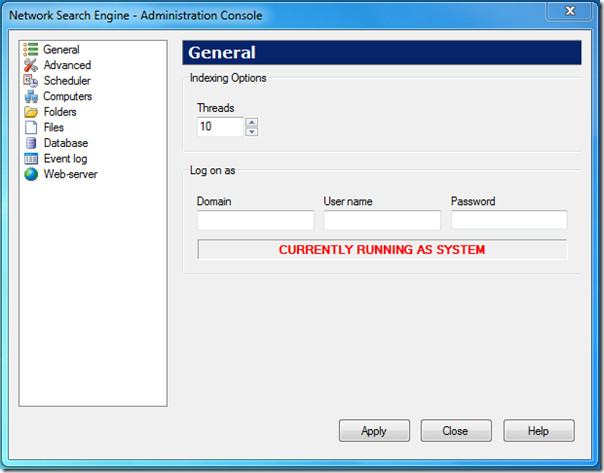 The options are quite straightforward as you navigate through them, and plentiful. For example, you get your local database management (the database stores the indexing information), you can schedule the crawler (which indexes the network files and folders), specify the computers to be indexed, view event log etc. Once you have set up the software as per your liking, apply the settings and close the dialog.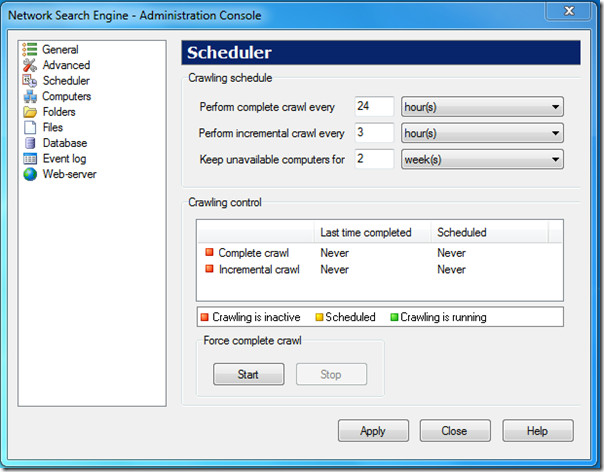 If this is your first time running the software, closing the admin console may leave you wondering how to proceed, just like it happened with us. Next off, run the GUI Client from your Start menu. It presents a simple, two-tabbed view, offering the ability to search or browse the network as a whole.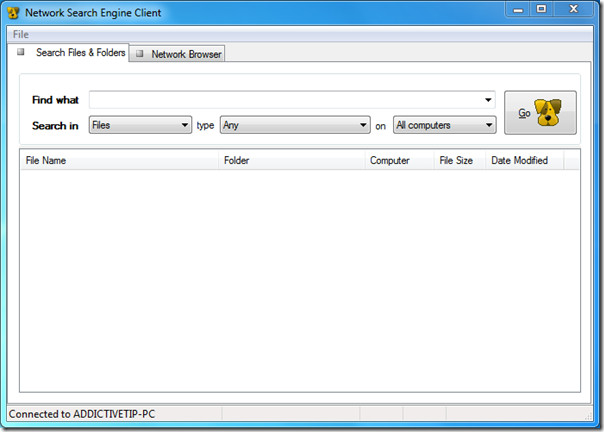 The search dialog provides the user option to search for files, folders, or both, define type (archive, audio, database, executable etc), and search through either the whole database or only on the computers active at the moment. The network browser view lists the available computers and offers available files with size specifications.
The File menu gives access to the preferences dialog box, as well as the option to save current search results.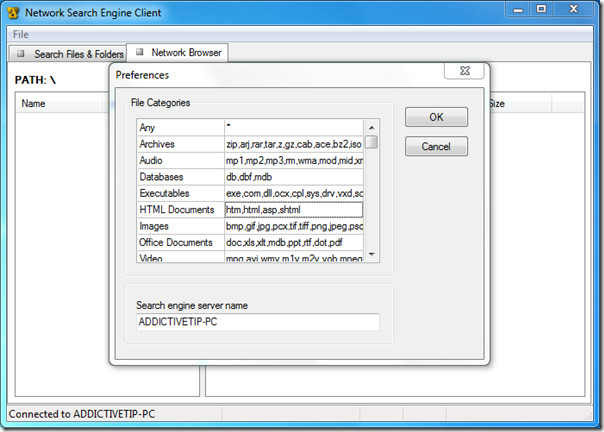 Here, you can define/change the file extensions with each of the predefined file types available for search specification.
Network Search Engine can also utilize third party ISAPI & CGI compliant servers with minimum configuration issues.
The software will work with Windows 7, 2008, Vista, 2003, XP and 2000, for both x86 and x64 architectures.
Download Network Search Engine