Search, Create Macros And Automate Actions With KeyBreeze App Launcher
Application launchers are used to quickly perform lengthy and monotonous computer tasks quickly without having to manually launch applications, open folders, run commands and so on. If you're looking for an application launcher which can quickly index most frequently visited locations, applications data, recently used commands, whilst offering a facility to index user-defined locations, KeyBreeze is one such tool which not only lets you index frequently used applications, commands, locations, but allows performing other computer tasks as well. KeyBreeze offers a long list of computer tasks and commands to help users enhance their overall work productivity. Being an efficient app launcher, it takes nothing more then a few minutes to index Windows special folders along with defined locations to compile file, folders, shortcuts, and app data list. The Commands section contains a slew of commands for opening Windows Explorer, performing web search , including Google, YouTube, Dictionary, Google Images, eBay search, and to launch installed applications.
In comparison with previously advocated Zum and Blaze, KeyBreeze differs in whole lot of ways. While it's a feature-rich application launcher, it carries way more options and tools to automate daily computer tasks. The built-in Macro editor not only records keystrokes and mouse movements to repeat the actions later, but can schedule recorded actions in order to automatically play them at specified time.
The default hotkey to bring up KeyBreeze launcher is semi-colon (;). Nevertheless, in initial installation steps, you can register any other hotkey combination. The first step after launching the app is to type update index followed by press Enter to index user-defined and Windows frequently used locations.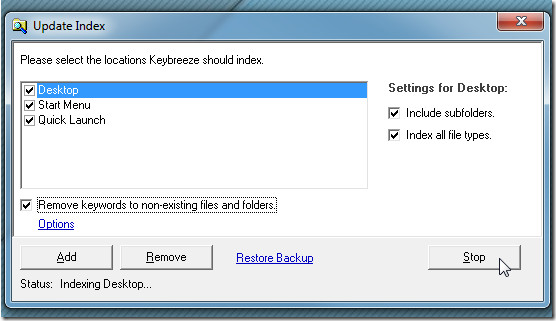 Once indexed, use registered hotkey combination and enter search keywords. From system tray menu, you can view command list, launch Macro editor, create sticky notes, schedule computer tasks, and toggle hotkey on/off.
Aside from launching installed programs, you can also instantly search keywords on web. If you, for instance, search YouTube video, enter yt followed by search keyword, and press enter to view YouTube results in default browser.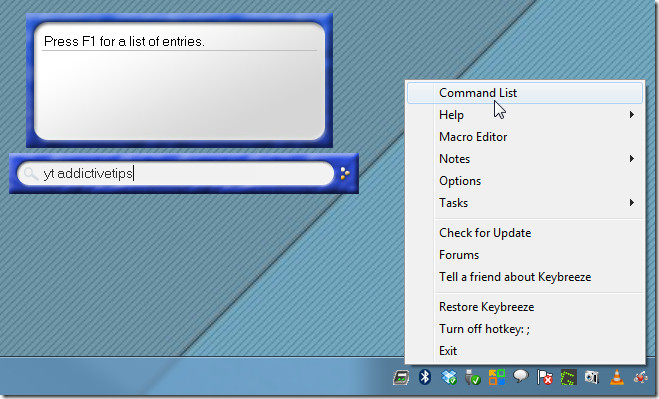 From Notes sub-menu, you can create new notes, add reminders and restore previous screen positions of notes. These notes can also act as to-do managers, i.e, you can add daily tasks and change them into reminders by defining snooze time interval.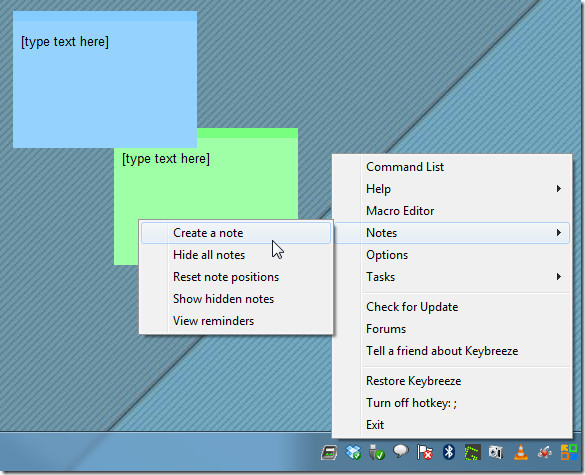 The Macro editor is however not targeted towards beginners, but once you get the hang of supported commands, creating macros will become fairly simple. Furthermore, it comes with a detailed help manual present at right side to help users understand basic commands and overall usage.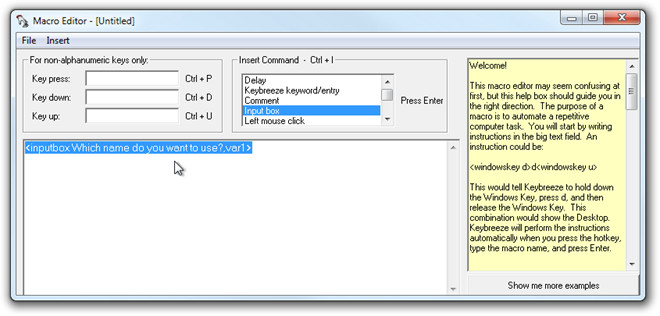 Task scheduling can't be more easier. Unlike other app launchers which requires adding list of actions manually, it shows all the available list of commands and actions that can scheduled. You just have to select the command, give task a name, and then define the task schedule time and date.
KeyBreeze is undoubtedly a comprehensive app launcher, but there still a room for improving build in application launcher specific features and overall user experience. Did we mention that it's an extensible app? You can find a handful of free plugins from the product page.