TorrentRover: Search, Manage, Automate & Download Torrents From Your Desktop
The ultimate torrent hunt demands a process of searching a product of interest, analyzing and choosing the healthiest torrent, downloading and loading to a torrent client. Technically, torrents point to a target, may it be audio, video, software or documents. Torrent search sites are often notorious for unwanted ads, pop-ups, buttons and fake torrents that distract you from the point of focus. TorrentRover is a powerful application that enables fast searching with organized results from various popular and trusted torrent websites, highlighting the best torrent file for you. In addition, you can automate torrent downloading by setting search-and-download schedules recurring over specific time periods.
Note: AddictiveTips does not, in any way, encourage or endorse using torrents or related software for piracy and illegal downloads. Please respect copyrights, and use such tools at your own discretion.
The application offers a user-friendly interface with toolbar buttons for managing, searching and sorting results. It should be noted that TorrentRover requires a torrent client for sending the torrent link directly to your Torrent client in order to start the downloading process. Moreover, it lets you search popular category-related websites from within the workspace to get a better overview of the application required. For example, the Youtube and IMDB buttons allow you to verify movies with their trailer and details before downloading the torrent. Similarly, buttons linking to Google, Wikipedia, ebay, Amazon search engines enhance the searching feature.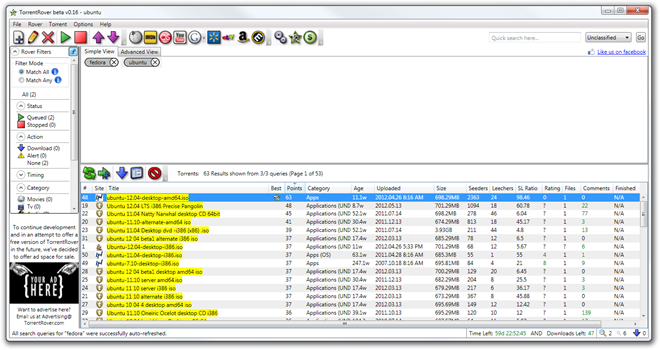 You can search from any category by entering the keyword on the search bar at the top right corner of the active window. This creates search keyword tags in the main window to better organize multiple search trails. The results are then displayed in a list form below with statistics and details like Category type, Seeders, Leechers, Age, Rating, Comments and number of Files to name a few. The best torrent is highlighted in the relevant column using the TorrentRover icon for prominence. In addition, right clicking a specific entry leads to further details like comments, files and source details while double clicking downloads the torrent to your system instantly.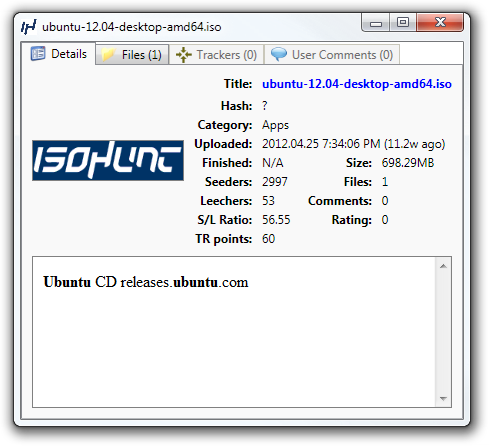 Another distinguishing feature is the Add New Rover, which enables you to specify a keyword search after fixed periods of time followed by automatic custom-specified actions. Your wishes are surely treated as commands, here, with built-in calendar and scheduling features especially for TV show downloads specified via Season, Episode Fields and File formats for a better experience.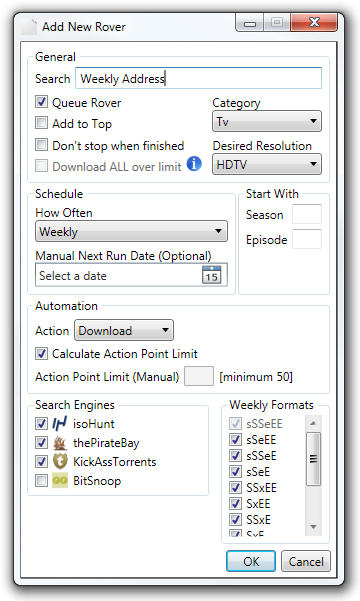 The Preferences window covers detailed customizations for the application in order to adjust features according to your taste and comfort level. You can easily switch between tabs to control when to launch TorrentRover, how to Add/Edit Rovers, timing, filtering and update option selections.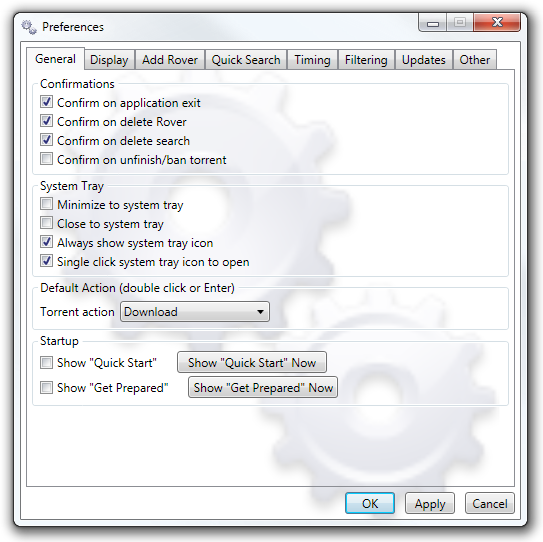 We tested the application on Windows 7, 64-bit edition. It supports Windows XP, Windows Vista, Windows 7 and Windows 8.