Search Slack For Files By Type And Delete Them All
Slack is possibly the most popular messenger app used today by teams small and medium sized. It's possible even larger teams use Slack given how well it understands messaging needs in the work place. One of the things I love about Slack is how easy it is to find files in a conversation and that's one of the areas I think it really beats out every other messaging service. Slack Deletron is a free web app built to make deleting files from Slack easier. It allows you to search files by type that you've shared or that are private, and delete them one-by-one, or all in one go. You can search files by type and at present Slack Deletron supports filters for images, PDFs, Google Docs, snippets, and zipped files.
Visit Slack Deletron and sign in with your Slack account. From the panel on the left, select if you're looking for just your own files or files shared with the team. This includes files that you've sent to a single person via direct message. Choose what type of file it is you're looking to delete. Click 'Get files'.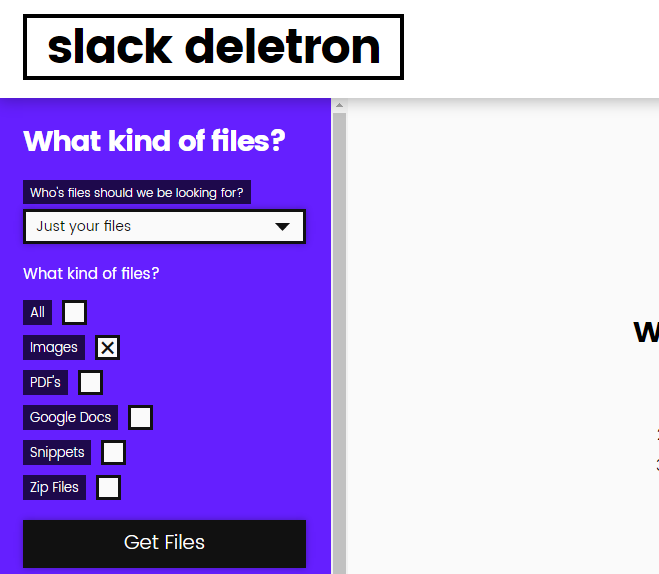 Slack Deletron will list all files that match the search criteria. Each file has a delete button under it so you can selectively remove it. If you want to remove all files click the 'Delete all files below' button. If you want to view the file before deleting it, click the thumbnail and it will open in a new tab.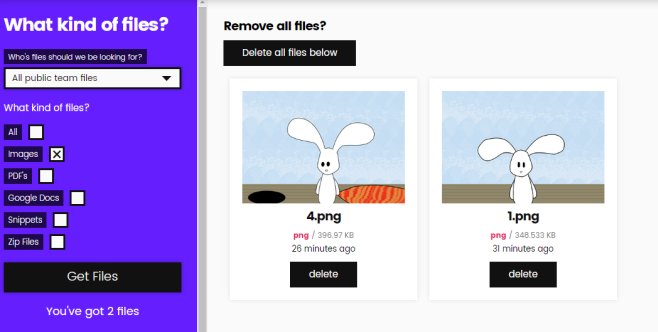 The app is new and the developers are looking for ideas to improve it. A filter for searching files in a particular channel or just over DM on a per-user basis is on my wishlist and would probably make it exponentially more useful.