Secure Firefox And Internet Explorer Browsing With G Data CloudSecurity
If your PC gets infected with malwares, spywares, and phishing scripts even in the presence of configured anti-virus internet security components, you should deploy an additional security layer for your web browsers to ensure system stability. Since it's not recommended to install more than one anti-malware software to protect system from malware, spyware, and phishing infested codes, you must use a dedicated security tool which looks for viruses, malwares, spywares, and security related vulnerabilities found in web pages. Similar to previously featured – TrafficeLight, G Data CloudSecurity is another web security tool which integrates into Firefox and Internet Explorer to protect you from malicious scripts. Before going into details. it's worth mentioning here that it doesn't erupt any sort of virus detection conflicts with other installed anti-virus suites nor does it disable any web-security functions of anti-phishing / anti-malware components of anti-virus.
G Data CloudSecurity doesn't block the compromised sites right away. When it detects any malicious code or spying attempt from a web server, it will immediately prompt user to either continue browsing or blacklist the web page in question.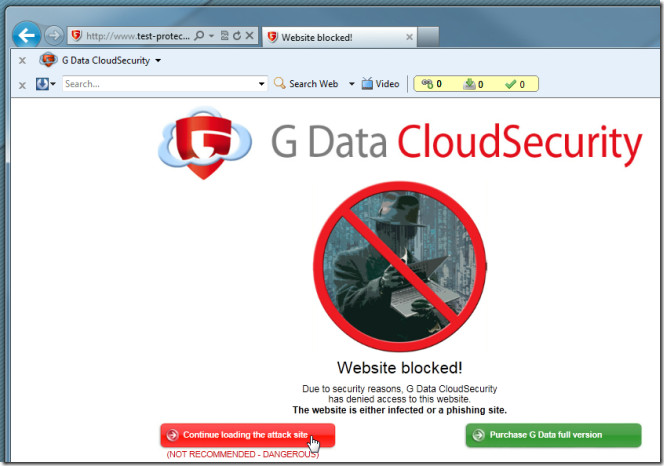 After you allow G Data CloudSecurity integration in Internet Explorer, you can access options from add-on bar. If for some reason, it fails to detect any web page with malicious code, click Report suspicious site to block the all similar web pages.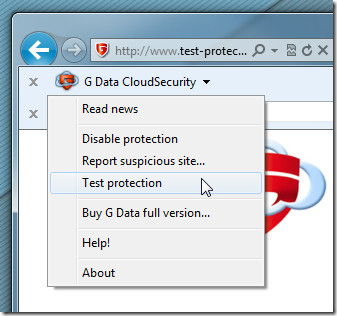 G Data CloudSecurity Pro costs $39.95 which offers some extra security layers to protect your system from viruses and malwares. However, the free version is enough to detect the all the known types of phishing attempts, malwares, spywares and the like.