Secure Folder Password Protects And Hides Windows Folders
Earlier we reviewed a tool called PenyuLocker which lets user protect any folder with a password,  it lacks one user friendly option and that is right-click context menu option. Secure Folder integrates with Windows Shell to give users an easy and quick way to lock their folders with just a couple of clicks.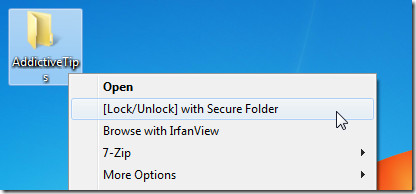 Another useful feature is that it allows user to either lock the folder or lock & hide the folder concurrently. This can be done by selecting the appropriate option from the main application window.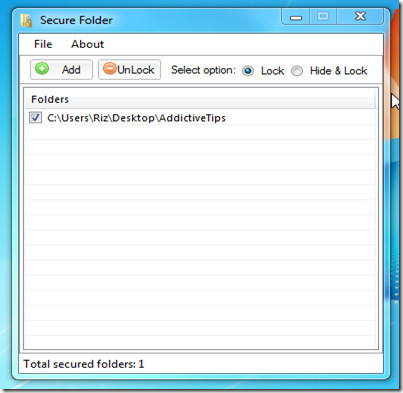 You can unlock the folder at any time by selecting it from the main window and then using the unlock button on the top left of the main window, however, unlock option is always present in right-click context menu.  It is a handy and easy to use tool to secure your precious data with ease. It runs on Windows XP, Windows Vista, and Windows 7.  Testing was done on Windows 7 x86 system.