SecurityKiss: Browse Anonymously With 300MB Of Free Daily Bandwith
We have previously reviewed a number of anonymous browsing and VPN services/applications. We even provided a comprehensive VPN (Virtual Private Network) guide for our readers, to explain the in-depth concept and procedure of creating a VPN. Recently, we came across a very handy VPN application, known as SecurityKiss. Unlike other applications of its kind, such as TunnelBear, it does not require logging in with an account, and provides 300MB of free bandwidth on a daily basis. This is much more than what most services offer, as even TunnelBear provides merely 500MB of free bandwidth per month (and an additional 1GB bandwidth on request via Twitter).
SecurityKiss is meant to deliver anonymous browsing and online security for the end user, and can also be used to bypass restrictions of location-specific websites. At installation, it installs a virtual adapter, and instantly connects to the VPN when you hit the Connect button from the main interface.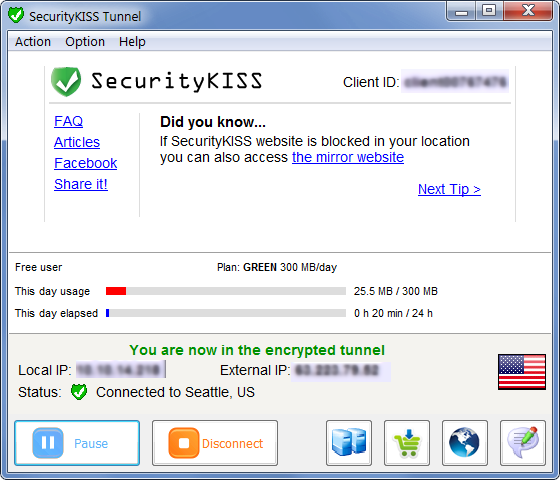 By default, SecurityKiss provides a US IP; however, you can switch to UK based login credentials by selecting an alternative server from Change Server.
If you would like to save bandwidth, SecurityKiss can be paused and resumed anytime from the system tray menu.It must be noted that the free version of SecurityKiss only provides US and UK credentials, whereas the paid versions deliver more dynamic options, such as acquiring network credentials from more nations (e.g., Canada, France, etc), more bandwidth (20GB per month–unlimited, depending upon your package), version for other operating system platforms, including Mac OS X and Linux, email client support and more. During testing, we got mixed response in terms of bypassing location based restrictions from websites, as we were unable to access Hulu, but Google Music service worked seamlessly.
The developer has mentioned that each downloaded instance of SecurityKISS is a different binary, so it will have to be separately downloaded for each computer. The free version of SecurityKiss works on Windows XP, Windows Vista and Windows 7.