Sentry Vision Security: Remote Webcam Surveillance & SMS/Email Security Alerts
Security and surveillance are usually ensured at home by setting up expensive technology in the form of cameras or processing and alarming systems. Addressing these concerns, Sentry Vision Security achieves the very same results with your webcam attached to your system. With advanced features organized in a simple interface, it enables you to set alerts and responses in case of any unwanted activity. So, when you leave your room, just activate your webcam with this software running in the background. It will automatically detect any movement in your room and send you a time-stamped SMS, e-mail or sets off an alarm in order to ensure security. The activity video and audio can then be reviewed whenever needed, from the recordings folder. Moreover, remote access and broadcasting features enable you to control the actions and observations from virtually anywhere.
With a smooth installation experience, the welcome window offers a simple interface, letting you easily configure webcam and Mic options, and motion sensitivity specifications. Moreover, all features and settings can be accessed through the buttons organized at the bottom of the active window.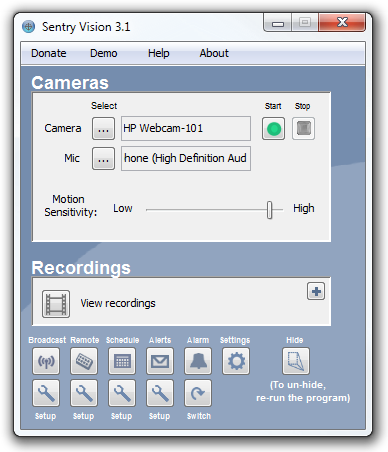 The Recordings section can be easily expanded to yield quality selection, which would determine the video output as well as the disk usage. Apart from specifying the destination path, you can Sync audio to give a more accurate output.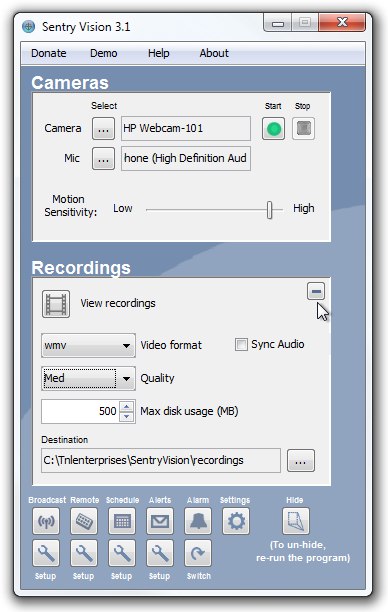 Sentry Vision will begin its operation when you click the green Start button from the Cameras section. This can then be broadcasted over the internet through an optional password-protected interface from where you can control all critical functions of your surveillance system. When you click the relevant button, it turns green to indicate selection showing a configuration window.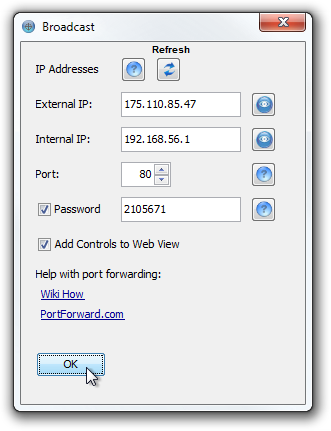 After specifying the relevant IP configurations and controls, and activating port forwarding; you can use the IP address to control settings and observations on the go.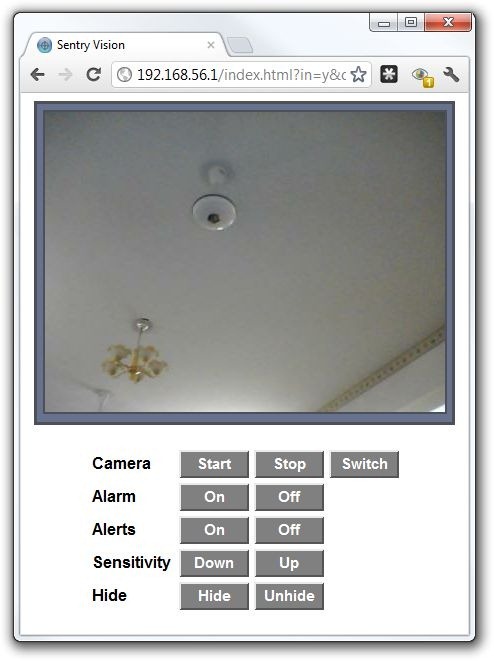 The application detects motion and performs specified actions. If you specify schedules by setting up the Rules that allow you to automate the required security parameters with respect to time and response.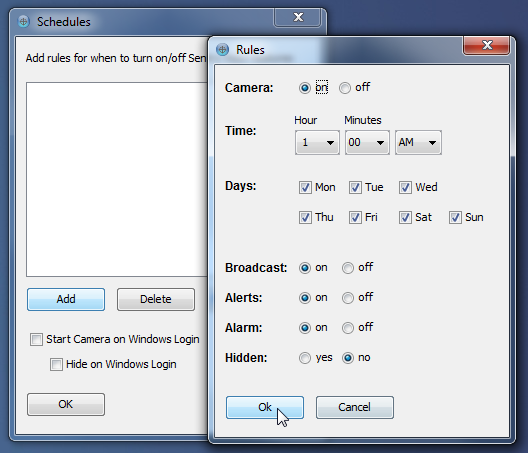 Upon detection, an alarm can go off, or if you've specified either your phone number or email address via the Setup Alerts window, you'll get notifications accordingly.
Finally, you can view all activity, when you return back home and track the progress of time in your absence. This utility was tested on Windows 7, 64-bit edition. It is compatible with Windows XP, Windows Vista, Windows 7 and Windows 8. It is advisable to follow the recommended webcam (specified on the official webpage) for optimal operation.
Download Sentry Vision Security