Set And Search Using Multiple Search Criteria With VX Search
If you are looking for a search tool with advanced search options, VX Search is definitely worth a try. It is an extensive rule-based file searching tool that allows you to set multiple search criteria, such as File Name, Extension, Category, File Attributes, Creation Date etc. To make the search process more organized, every criteria has its own set of rules; for example, File Name includes Contains, Wildcard, Equals, Begins With, Ends With etc. You can search the files locally, on remote locations, define the locations you want to exclude from the search, and the maximum number of search results.
VX Search allows you to set filters for search results to categorize them by Extension, File Size, Last Access Time, File Type etc. It also allows you to configure and use hotkeys for searching files and folders, and lets you view number of files and disk space consumed by a particular category of files in a colorful pie or bar chart and copy it to clipboard.
The main interface consists of Search, Pause, Stop, Charts, Save, Database, Layouts and Help buttons at the top. Search Rules, Search Locations and Search Profiles panes are on the left side, while search results are shown in the right side. The bottom right pane allows you to set filters to view search results.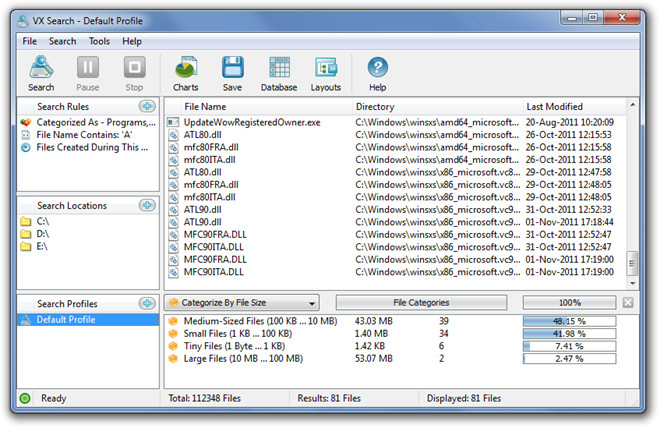 To start searching, click Search and create a new Search Profile. Choose the type of search from File Name, Extension, Full Path, Category, File Size, File Attributes, Created, Last Modified etc. Multiple profiles can be created by clicking Add (+) button in front of Search Profiles in lower left corner of the interface.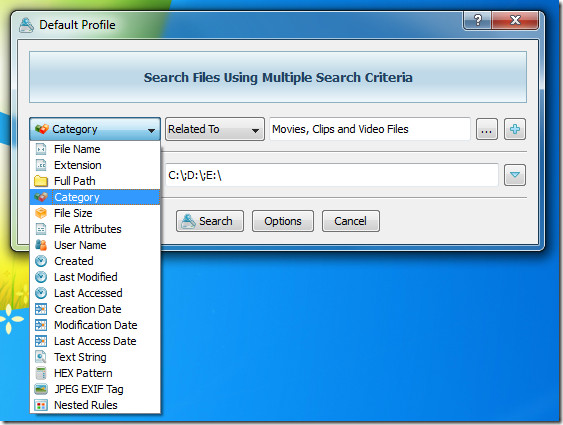 Each type has its own set of rules to choose from. For example, File Name has Contains, Wildcard, RegEx, Equals, Begins With, Ends With, Not Equal, Not Contain, Not Begin and Not End With as the available rules.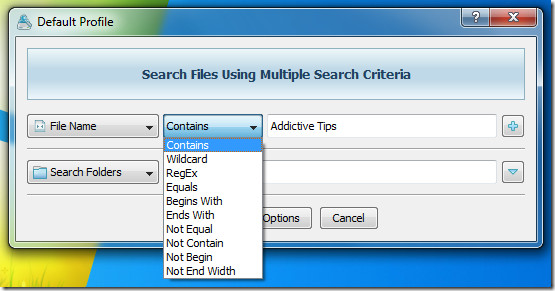 VX Search allows you to set multiple search criteria in the same way for a quickly location the file you need, It allows you to choose from Search Specific Folders, Search All Disks, Search Servers or Search Network.
The Options button allows you to configure search options such as Default Report Title, Stop Search After, Scanning Mode and Search Performance. You can also add folders to an Exclude list to exclude them from the search.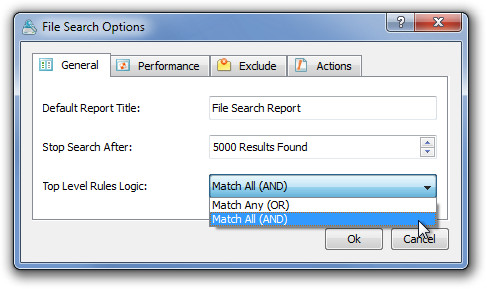 Once all settings are done, click Search to start the searching process. Search can be paused, resumed and stopped from their respective buttons available at the top. The search results appear in the main window of the interface. For efficient viewing, search results can be categorized according to filters such as Extension, File Size, last Access Time Modification Time, Creation Time, File Type and User Name.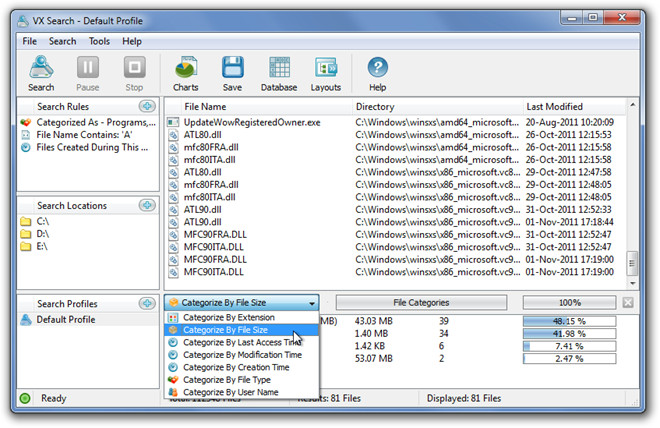 After selecting the category filter, click Charts button on the top to view a pie chart detailing the Number of Files and Disk Space used in relation to the filter. You can change the chart view between Pie Chart and Bar Chart and Copy Image to Clipboard or directly Print it. The Options button allows you to change the text in Chart Header and Chart Footer.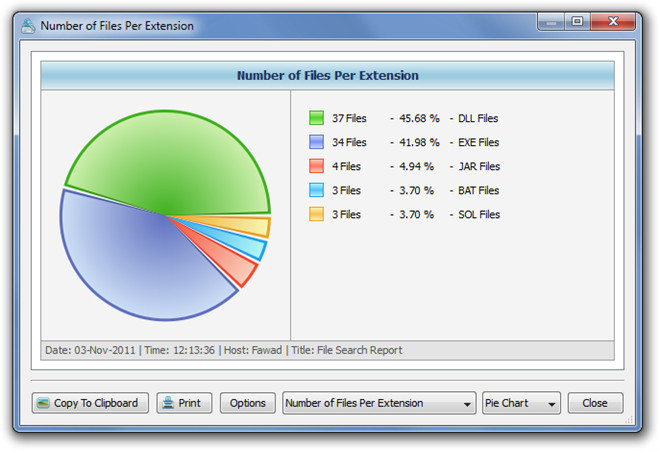 The Advanced Configuration of VX Search can be accessed from Tools menu at the top. It has General, Shortcuts, Proxy, E-Mail and Database tabs. General includes settings such as Show Main Toolbar, Show Error Messages in System Tray, Abort Operation On Critical Errors etc. Shortcuts lets you edit hotkey shortcuts for different function of the application like Execute Search Command, Pause Search Command, Select Next Search Command etc. Proxy lets you configure the proxy settings.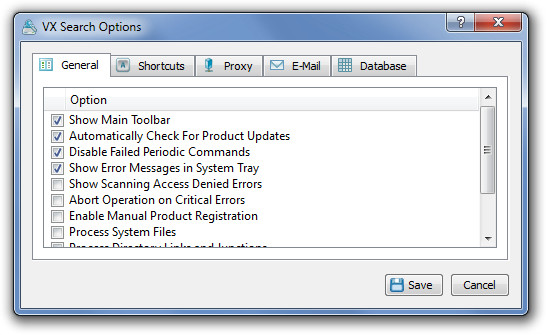 Note that the Load Report File feature is available in the Pro version of the application while, E-Mail, Database and Actions features are only available in the Ultimate version of VX Search. Pro version costs $10 while Ultimate version costs $50. All other features can be fully accessed in the free version. The application offers some other options as well, which are not covered in this post, so you may want to try it out for a full experience. VX Search works on all version of Windows.