Create & Share Rich Photo-Music Slideshows On Windows 8 Using Whip
If you like to share your photos with friends, family or others in general, you should really consider trying out Whip. It's a Windows 8 and RT app – with mobile versions available for iOS and Android – that enables you to create slideshow-style photo presentations spiced up with music, varying background styles and templates, depending on your preferences. These meticulously curated  photo albums can then be shared with other Whip users. It's a fascinating app that – despite not bringing something unique or groundbreaking to the table – holds on to a fun factor of its own. Lets see how it works.
The landing screen of the app shows a few popular Whips shared by others. You can even shop for new related content such as Whip templates directly from its interface. Every Whip that a user creates and shares using the service appears on the WhipStream for others to see. To use Whip, the first thing you require to do is creating a Whip account, especially if you want to share the albums you create with others. The fastest way to do so is to use your Twitter or Facebook account. Once you've connected your social media profiles, it's time to whip up some new photo albums. You can tap or click Create on the app bar or the main screen to get started.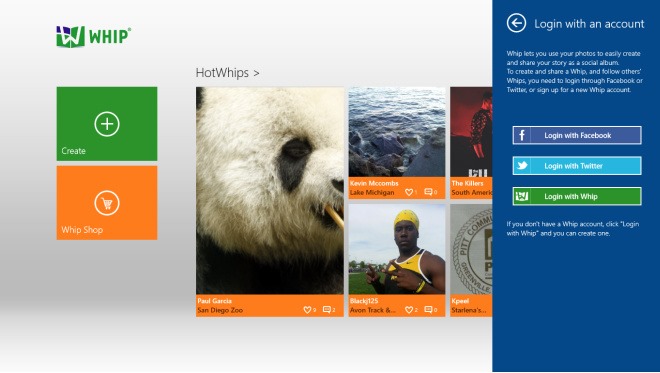 Simply browse to the location of your desired photos in the built-in file browser to choose your pictures. Fortunately, the app lets you select multiple photos in one go.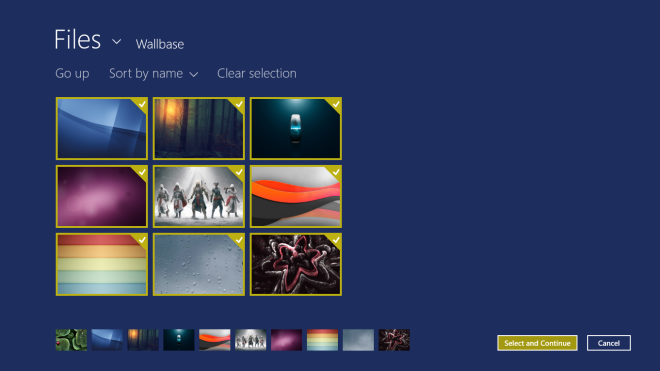 The next step is to choose your Whip style, which consists of a variety of templates such as art deco, contemporary, crayon, crazy, elegant, pastel, photo book etc. If you aren't happy with these and want to download a few additional ones, hit the More tile to the far right. That said, only three additional templates are downloadable as of this writing – spring, St. Patrick's day and Mother's day.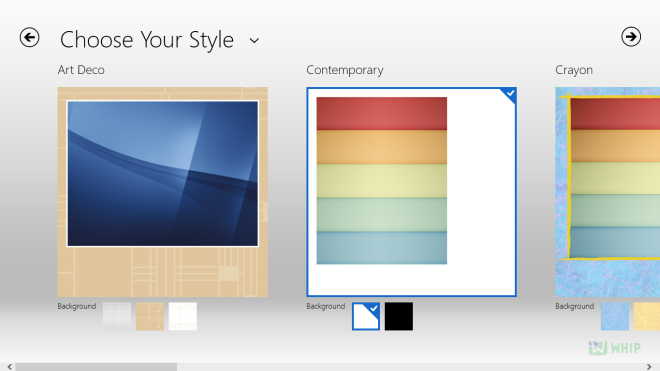 The 'Build your Whip' screen that pops up in the proceeding step further extends the customization. Here, you can give a title to your album and jot down a mini description. You can even add music to your Whip using the Add Music button on the app bar. Alternatively, the app allows you to record and insert custom voiceovers of your own. Akin to Whip styles, there's a lot of choice regarding the type of music you wish to insert, including Mother's day, celebrations, romance, nature, party, spring and more.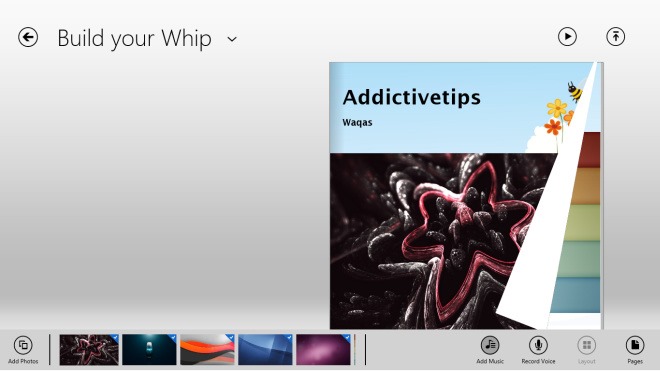 Once a Whip is created, you can publish it to the WhipStream by giving it a name and an optional description. You can also specify a category for the Whip, and choose the social media accounts on which it will be shared.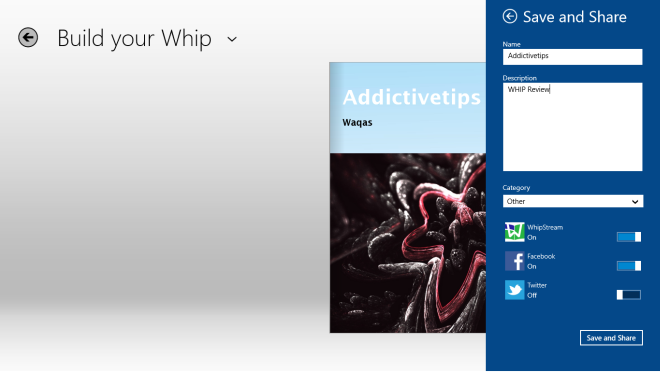 Whip also enables you to browse and view other people's Whips. The viewing screen allows you to like whips, or post comment on them. You can also follow other users in a Twitter-esque manner.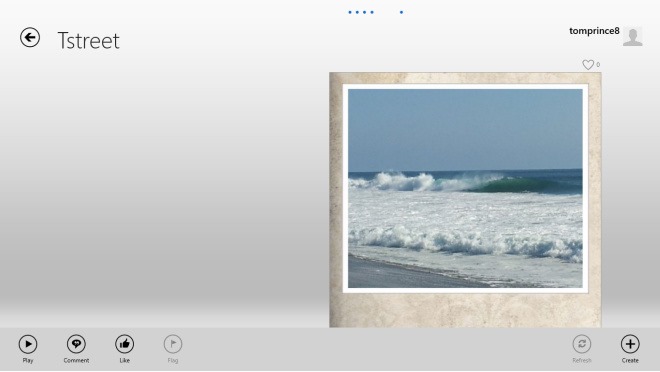 Whip is available at Windows Store, Google Play Store and iTunes App Store for free. Testing was carried out on Window 8 Pro, 64-bit operating system.
Download Whip For Windows 8 & RT