Share Your PC's Screen Over The Web To Any Flash-Enabled Device
You don't need a high technical aptitude to create a remote screen sharing session these days, when applications like TeamViewer or RealVNC make it effortless. Screen sharing solutions help businesses and entrepreneurs to communicate and market their products remotely. It also aids common users to help their friends rectifying various computer related problems. If you're looking for an easy-to-use screen sharing software for Windows, then give Share My Screen Pro a shot. Apart from screen sharing, the app allows you to share files, send and receive instant messages and communicate with users through voice chat. It's not just fairly easy to use, but equally simple to set up as well.
To use the application, you need to have a Share My Screen Pro account, which you can create from within the app for free. The free account only allows screen sharing with a single user at a time. If you want to broadcast your screen to multiple people, you'll need to buy either Standard or Professional licenses.
After signing up and activating your account via the verification email that the service sends you, launch the application and enter the email and password you used to signup, and click Login.

Share My Screen Pro doesn't allow you to control the remote machine like a VNC (Virtual Network Computing) software does, but rather only enables viewing of the screen from the other end through a web browser. You can share the URL with anyone to let them see your desktop activity.
To start sharing your screen, input a custom nickname for instant messaging, and if you've purchased a premium license, check the Multiple Viewers option and click 'Create Share Session'.  The application automatically generates the share URL under Viewer Link, which you can copy and send to the intended recipient. It also creates a Viewer Share code for iOS and Android devices, though the mobile apps are currently in the pipeline. You can, however, still view a shared session on your phone if the mobile browser you are using is flash-enabled.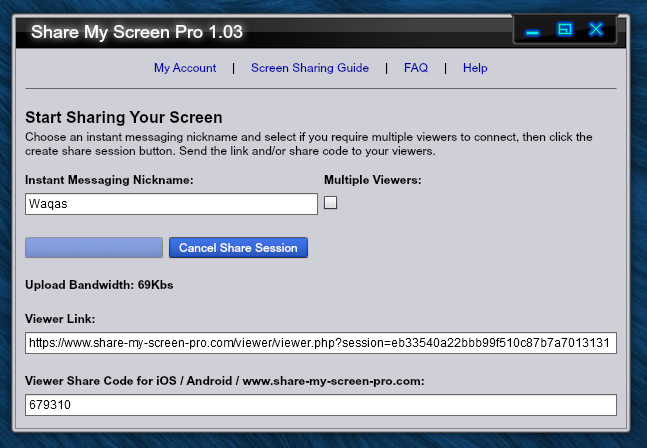 The user(s) with whom you share the link only need to copy and paste it to their browser's URL bar to start the screen sharing session. The control panel at the right allows receiving files from the host and communicating through instant messaging.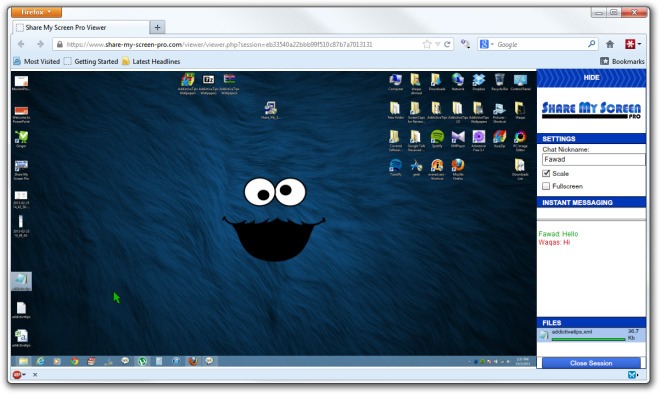 Along with file transfer and IM, Share My Screen Pro also sports voice chat, for which it lets you set the microphone's audio quality from the control pane. You can also change the image quality of the feed from the same place. To stop sharing your screen, simply click the 'Close Session' button at the bottom.
Note that according to the developer, an internet speed of over 60KB is recommended for optimal performance.
Share My Screen Pro is free for single user account, while the Standard and Professional licenses will set you back $7.99/month and $15.99/month, respectively.
All in all, an excellent solution to quickly share your screen with your friends or clients. Share My Screen Pro works on Windows XP, Windows Vista, Windows 7 and Windows 8.