Shortcuts To Tray Adds A Customizable System Tray Shortcut Menu
Work always seems easier if all the required tools are available to you, doesn't it? For instance, if you are repairing your vehicle, you don't want to use the wrong set of tools and end up paying extra bucks for damaging it even further. Same is the case when working on a PC. If all your required applications and tools are available on your desktop, you can save a lot of time. However, you cannot create shortcuts to all the files on the desktop. This makes it look very cluttered and you even ruin that look of your favorite wallpaper. A rather convenient way would be to use Shortcuts To Tray instead. It is a portable application that adds a system tray shortcut menu, allowing you quick access to your favorite links and application shortcuts. The application sports some pre-specified shortcuts, and allows you to add and edit new shortcuts for files, folders, applications, website links, disk drives etc. You can manage each category individually by adding, editing and deleting the shortcuts, creating groups within a category and moving shortcuts up and down the list. More on Shortcuts To Tray after the break.
The application can be accessed by clicking its system tray icon. Categories available in Shortcuts To Tray menu include Files and Folders, Internet Link, Network Resources, Applications, Run, Operations, System Links and Disk Drives.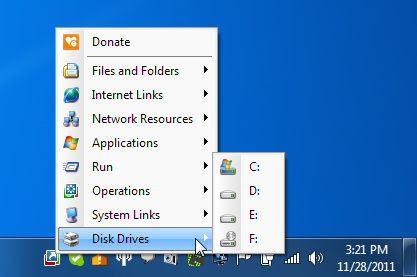 You can add and delete items from the categories based on your requirement. For instance, if you want to add a website link to the shortcut menu, select Internet Links from the list and click Add New Item. In the Add/Edit Internet Link window, specify the Title and Internet Link of the website. You can also add it to a group by entering a group name for the website. Shortcuts for other categories can also be added in the same way.
The application allows you to open the link with Internet Explorer, Mozilla Firefox, Google Chrome or Opera browser. You can open it or just copy the link depending on your requirement.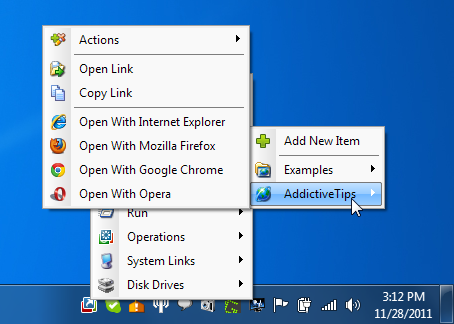 The Operations category includes shortcuts for all windows login and logoff related features such as Launch Screensaver, Lock Workstation, Log off, Sleep, Hibernate, Monitor Sleep, Reboot, Shutdown and Power Off.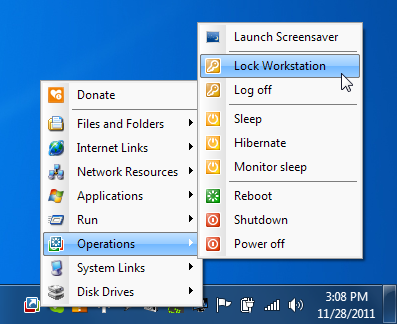 Shortcuts To Tray adds shortcuts to one of the most accessible locations of your desktop. It works on both 32-bit and 64-bit versions of Windows XP, Windows Vista and Windows 7.