Sign And Verify Documents With Digital Signatures With XolidoSign
A digital signature is an electronic signature which is used for authenticating the identity of the sender of a message, the signer of a document, and to ensure that the original content of a file has not been forged. XolidoSign is a digital signature and verification application which makes it easy to digitally sign or verify documents. It also provides the option to time stamp documents and supports various commonly used formats, including PDF, MS Word, MS Excel, MS PowerPoint, Databases, Videos, Text files, 3D files, Maps, Music files and Images. The verification of documents can be either performed using the manual method or by using the Smart Verification utility. The supported digital signature formats include PKCS7/CMS and advanced CAdES-T, CadES-C and CadES-XL. Certificates can be easily imported from your Windows Certificate Store, including those on your SmartCards. XolidoSign is not restricted by file size and can sign documents of any size.
Using XolidoSign is quite easy, just go to the Sign tab, select a document to digitally sign, followed by a certificate and output folder. You can also enable a time stamp for the selected document. Once you have selected the required options for the document, click Start Process to digitally sign it.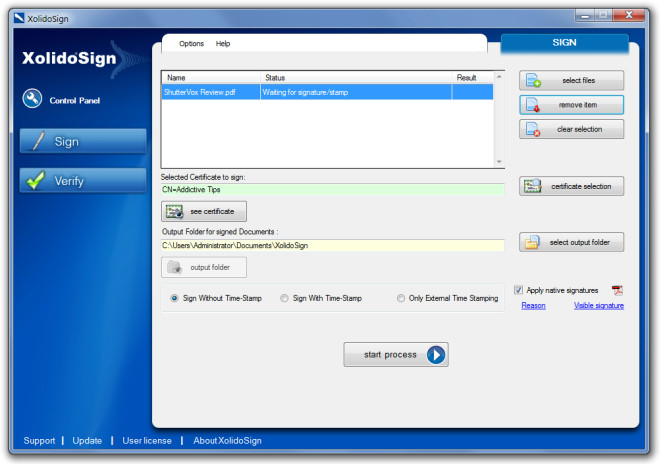 In case you require verifying a document, head over to the Verify tab, select the file to verify the signature for and click Start Process to authenticate the document. The verification can be performed either using the Manual or Smart Verification utility. Smart Verification system starts an automatic process to check associations between files, electronic signatures and time stamps and returns validity status for the signature, time stamps and file. Whereas, for Manual Verification, you will require specifying a signature to check the file against.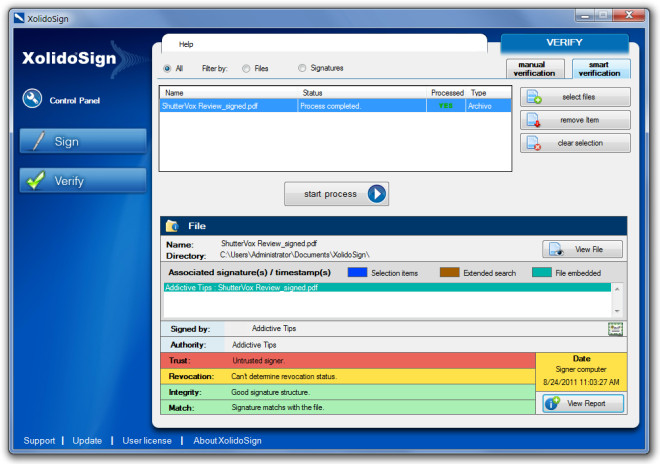 You can click View Report to get a detailed report for the verified document. The report includes the status of the signature integrity, validity period, certificate authority details, signer trust and revocation status.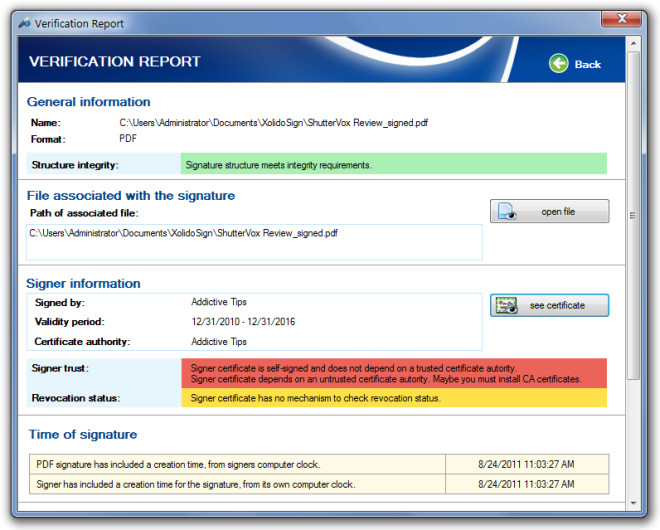 XolidoSign works on Windows XP, Windows Vista and WIndows 7.