Simnet Registry Defrag: Optimize PC Performance With Registry Defrag Tool
Simnet Registry Defrag is a free tool that lets you optimize PC performance by defragmenting Windows registry. It's common for the registry to get fragmented, thereby delaying in the response time of applications. Using this application, you can defrag Windows registry and prevent it from being corrupted.
This program does not feature many options. You will only find the Analyze Now button on the main interface. When you click this button, the application will analyze your Windows registry and show you the results.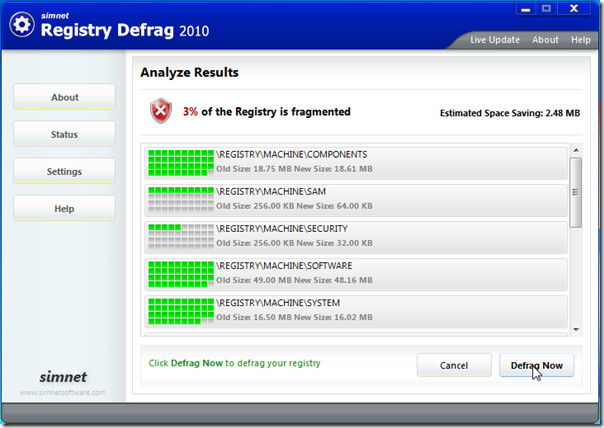 After the analysis, click Defrag Now to start defragmenting your PC. You have to allow Windows to restart when the process completes.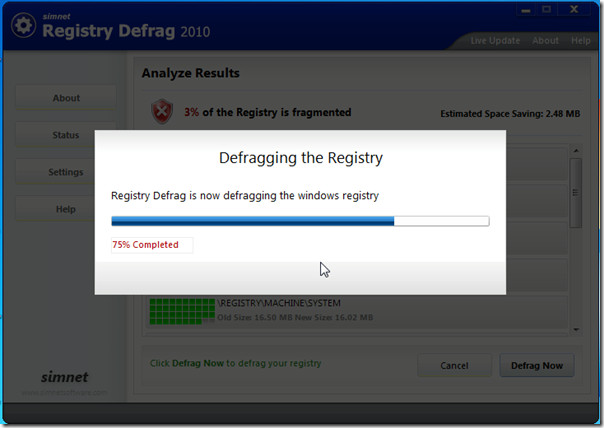 By default, the application creates a System Restore Point before defragmentation begins. You can change this option from the Settings button on the left sidebar. It is a handy application that's light on your PC (uses just 7MB memory) and effective in improving Windows performance. It supports Windows XP, Windows Vista and Windows 7 OS; testing was carried out on Windows 7, x86 system
Download Simnet Registry Defrag
For more, check out QuickSys RegDefrag