Simple Ways To Create, Burn And Mount An ISO Image File
An Image, whether an ISO or other media image, is simply a file that can be used as a virtually identical copy of the original media. This file not only contains individual data files, it also contains track and sector information and arranges all this information in a file system, just like media disk. Image files, unlike normal files, are usually not opened; rather, they are mounted. It is simply a CD-ROM or DVD image saved in ISO-9660 format. ISO images are mainly used as source files from which to create media. After you download the image, you can use CD-burning software to recreate the physical CD-ROM/DVD.
Create An ISO Image
Folder2ISO is a lightweight and powerful application for creating an ISO image, it is a freeware tool which creates an ISO from any kind of folder (including the subfolders). One of the main advantage of this application is that there is no need to install this program, just download this program and run it. To create an ISO image from this program follow these simple steps:
Download and run the Folder2ISO program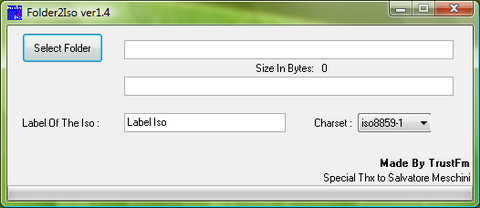 Click Select Folder to locate the folder which you want to convert. Now click Select Output to select the destination folder where you want to save your ISO file.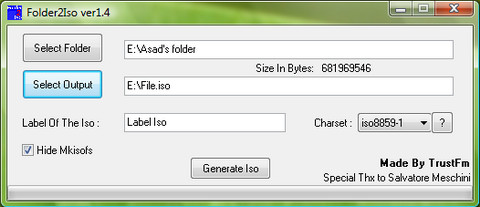 If you want, give a label to the ISO file which you are going to create. Now click on Generate ISO, and it will automatically create an ISO from your folder.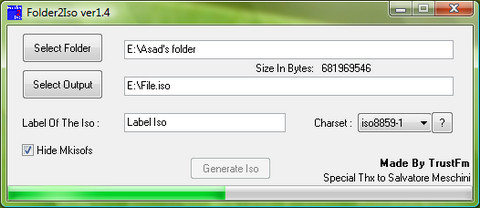 To create an ISO image of a CD / DVD drive, you can use the utility LC ISO Creator, simply select the drive you want to create the ISO image file from, then click the Create ISO button and choose the directory where you want to save the file to. That's it !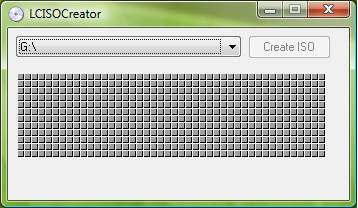 Burn An ISO Image
The ISO Image file contains all of the folder and/or file structure for the CD Disk in a compressed form. Whatever software package that you use to burn the image needs to be able to read an ISO Image File and translate it so that it can understand the folder and file structure (and the files themselves), break them out and them burn it to a CD. A simply handy utility for this purpose is Active ISO burner.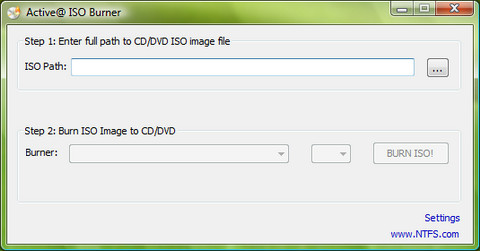 Insert a blank CD in your CD-RW drive, Type the path to ISO image file or click Browse button to locate it via standard File Open dialog.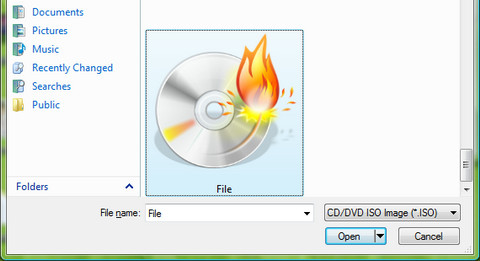 Click the [BURN ISO!] button to start the process of writing ISO image to CD.
Mount An ISO Image
When you get your hands on an .ISO that you want to use, you can either burn it to a physical CD or DVD media or mount it by using some sort of emulating software. By using a mounting software you can keep the .ISO file somewhere on your hard disk or network, and then just access it like it was a real CD or DVD drive. Virtual CloneDrive works and behaves just like a physical CD/DVD drive, however it exists only virtually. ISO image can be mounted onto a virtual drive from your hard-disk or from a network drive and used in the same manner as inserting them into a normal CD/DVD drive. It works great !
To mount an ISO image file, simply download  Virtual CloneDrive. Once installed, start up the application.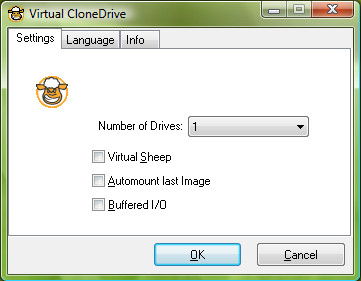 To select the number of virtual drives that you want to have at your disposal, under the Settings tab, use the Number of Drives dropdown and select the desired number of virtual drives you want to have.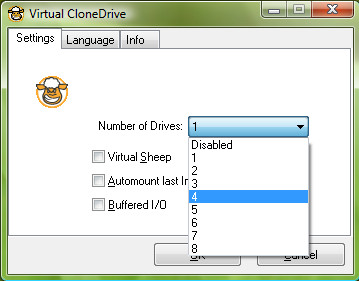 Click OK and then go to computer to see the newly created drive(s), right-click the new virtual drive, go to Virtual CloneDrive, and select Mount.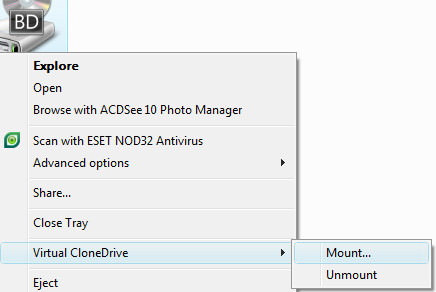 Browse to the location of the ISO image file and click OK.  The image file will then can be accessed as if it were an actual CD or DVD.
Feel free to ask any questions and if you like this post don't forget to share it with your friends.