Hands-On With The Official Skype App For Windows 8 [Review]
It is an important year for Microsoft. They announced a new version of their Office productivity suite, Windows 8 is ready for launch, and the software giant has finally jumped on to the tablet market bandwagon. Furthermore, the rumor mill states that the next Xbox is already in the pipeline. After its acquisition by Microsoft in 2011, Skype has become another one of its major offerings. The cross-platform VoIP software is available for all the major desktop and mobile operating systems, including Windows, OSX, Linux, iOS, Android and Windows Phone. One major counterpart of Skype that was missing the scene for quite a while was the Modern UI (Windows Store) version, but not anymore. The Modern UI-style Skype app has just been released for Windows 8, and we have to admit it that it feels quite robust and snappy. Microsoft announced earlier this week that it will be available on October 26th, but it looks like the company had a change of mind. The feature-rich app lets you make both audio and video calls, where the latter supports both windowed and full screen mode. It runs seamlessly in the background, and can be snapped to the left or right of the screen (like other Windows Store apps) during calls.
Akin to other Modern UI apps, Skype can be downloaded from Windows Store. After you have logged into the Windows, open the Windows Store from Start Screen. The app is currently featured on the front of the page, but if you don't find it, use the Win + Q hotkey to open the Search Charms and then type Skype. Press enter to filter the results, select Skype from main page to open its Windows Store page. Clicking Install button begins the download process.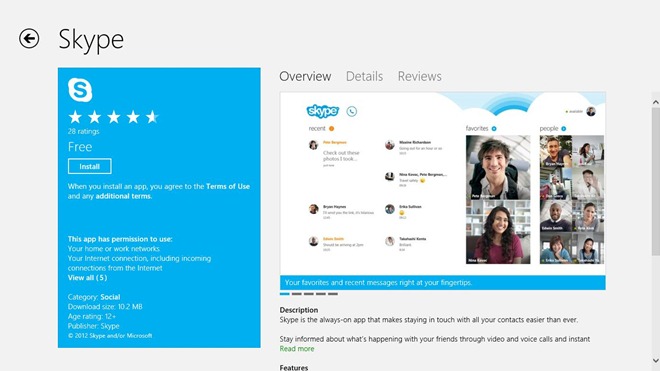 Upon launch, you can either Sign in to your existing Skype account or Sign up for a new one. It looks like Microsoft now lets you sign in or merge existing account to your Outlook account as well (or was I missing this option for quite a while?). To login, click I have a Skype account. Likewise, to create a new account, simply click I'm new to Skype.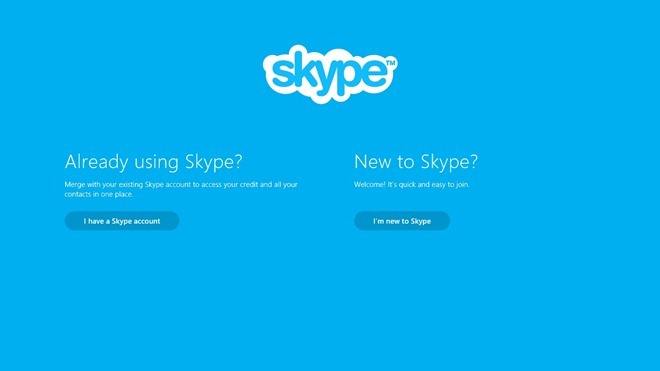 The interface of Skype offers minimalism and simplicity. It has the same signature light blue color we all know about. The main screen gives a bird's eye view over your recent IMs, favorites and people (contacts). People tiles lets you access contacts, and their display pictures are appeared as tiles.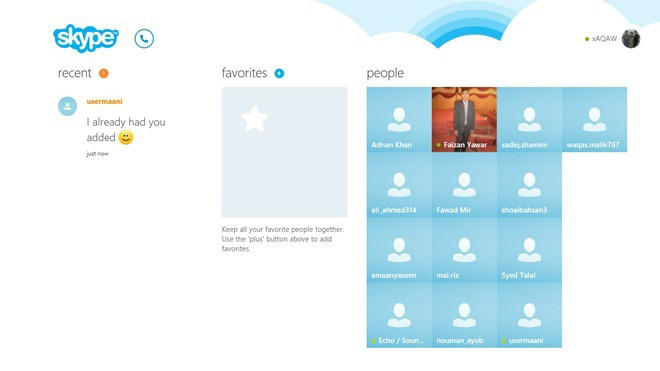 The IM section of the selected contact lets you send instant messages, or directly make calls via hitting the Dialer button to the right. Should you want to make video calls, make sure you already have a webcam connected to your PC. Clicking the (+) button next to dialer enables you to add multiple contacts for a group conversation.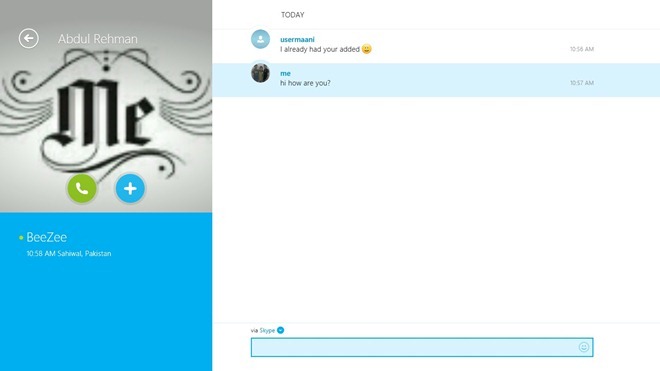 The voice call shows the display picture of the contact, as well as houses navigation controls for Mute, Instant Message, Dial pad and Hang up. The voice quality is quite top-notch, albeit it may depend your internet speed.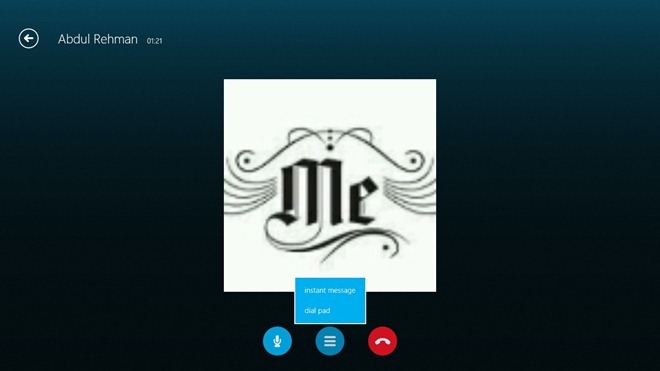 Right clicking within this window shows you further options at the bottom, such as add the contact to your favorites, View profile and remove.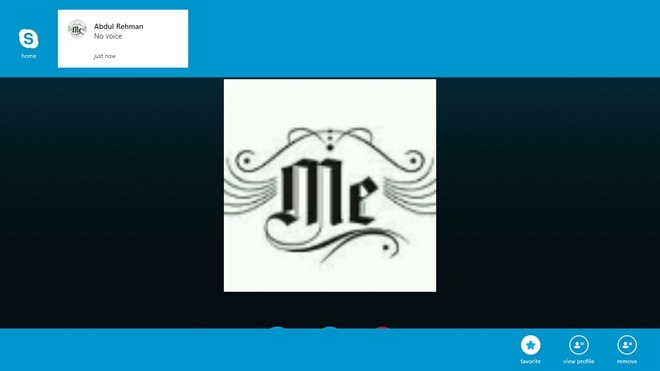 Video calls on the other hand also work like a charm, and contains the same navigation controls at the bottom. It supports Picture in Picture view, and shows your video stream at the bottom right.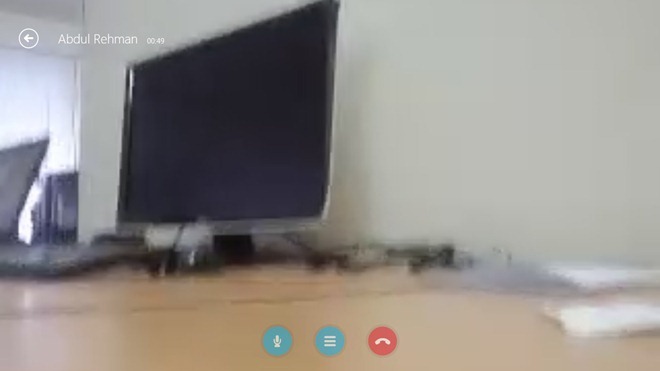 The Dialer or Dial pad gives you a peek at your existing Skype credit. It also displays the recent calls that you made, and you can instantly purchase additional credit via clicking buy Skype Credit.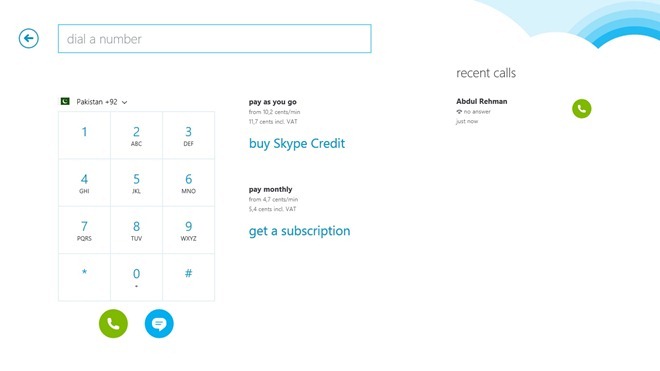 Skype for Windows 8 lets you change view application specific settings from the Options menu. This menu is accessible by clicking Settings from Charms Bar and then hitting Options. It allows you to tweak a number of parameters, such as Microphone and Speakers under Audio, Camera and Incoming video and screen sharing under Video. Similarly, it enables you to restrict incoming calls and instant messages, clear conversation history and toggle automatic call answering.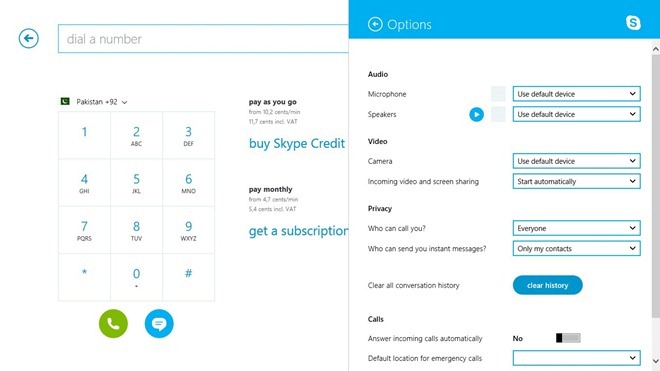 Overall, The Modern-UI Skype app is fast, easy to use and its Modern UI face looks stunning. Testing was carried out on Windows 8, 64-bit. Happy Skyping!