Small Portable Minimalist M3 Music Player
M3 is the smallest portable music player you will ever come across. Combined with minimalist user interface, it is perfect for carrying on a USB drive. It contains no menu, simply drag & drop a music file and it will start playing instantly. Drag multiple music files and they will be added to the playlist.

It can play three audio formats, mp3, wav, and wma. Click the clipboard icon to show/hide playlist. The playlist is searchable, the results are highlighted in real-time.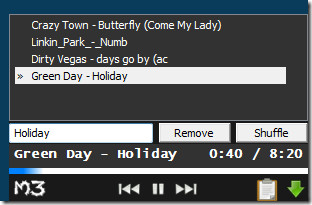 When it comes to control, there are only three button given – previous track, play/pause, and next track. There is no build-in option to increase/decrease the volume, but you can change the volume using Window's default Volume Control. This makes sense since the author wanted the player to be as minimalist as possible.
The player sits on the lower-right side of the screen and can be minimized to the system tray. The developer wanted the UI to be small to save maximum screen space, great for netbooks and small laptops.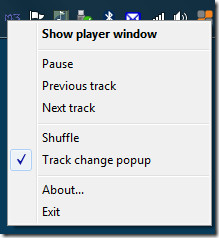 You can choose to shuffle the music from both with-in the playlist and from the context menu. A small pop-up is displayed when the next track begins to play, this can also be disabled from the context menu.
The total size of the player is just a little over 100Kb. It works on all versions of Windows, including both 32-bit and 64-bit versions of Windows 7.