SnapInstall: Mouse Triggered Screenshot Tool To Create Product Manuals
There are multiple ways of taking and editing screenshots; whether you choose to use the  Windows Snipping tool or some other application like Greenshot, or Shotty, these applications have one thing in common, they are all triggered by keyboards controls. Most screen capturing tools are triggered primarily by the Print Screen key (or in combination with the Ctrl or Alt keys), SnapInstall is a desktop tool for taking screenshots that is triggered by the mouse, more specifically, the middle mouse button/ mouse wheel. The tool automatically saves the images and adds them all to a single PDF file to create a manual or installation instruction.
With so many popular tools for taking screenshots (some even have their own Wikipedia page) you probably have a favorite tool and no amount of picture taking precision could make you to stop using it so why use SnapInstall? This tool isn't for those ordinary every day screenshots you need to take, it's more suited for individuals who are tasked with creating lengthy procedural documents which include multiple screenshots e.g., installation guides. For those needing to outline an installation procedure, taking periodic screenshots fast is more important. Run the tool, start off by entering a name for your procedural document, the name of the author and a logo if you like.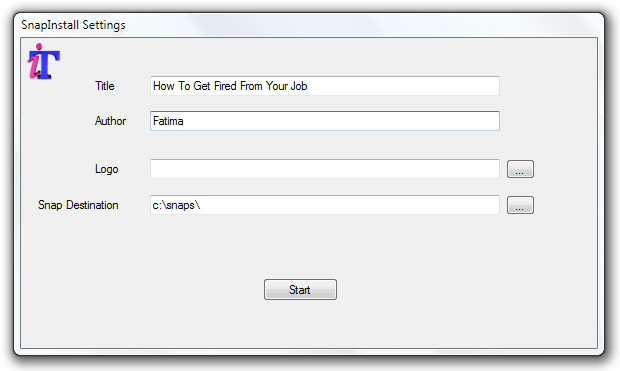 You do not have to tweak any key/ mouse button settings, the tool will take a full screenshot of whatever area you click on your screen and save it automatically when you click the middle mouse button.

Once you've taken as many screenshots as you want, visit the folder (by default created at C:\snaps\User Name\…\Session1) and you can view the screenshots the tool has taken. Right-click the icon in the system tray and select Create PDF And Exit.This will add all screenshots to a single PDF file. The PDF file captions each screenshot with its name and which application it is running in, and where you clicked to take the screenshot. This makes it easier for anyone reading the file to understand the process you're explaining.
The tool doesn't let you change which mouse button will trigger the screenshot so it's likely not going to become your everyday screen capturing tool but, as mentioned before, it is good for taking screenshots when you want to give step-by-step demonstration of how an application or software works. The screenshots are taken unobtrusively, only a notification in the taskbar appears and you can immediately move on to the next shot without having to stop and save the previous one first.