SnipSnip Is A Powerful Screenshot Tool That Can Capture Individual UI Objects
There are a lot of applications for taking screenshots and we've covered quite a variety here at AddictiveTips. To separate itself a tad from the lot, SnipSnip offers a feature that captures individual UI elements anywhere in the OS, in addition to the basic photo editing functions like cropping, resizing and annotating with shapes and customized text that you would expect from any decent screenshot tool these days. SnipSnip doesn't run in the background like Greenshot or Shotty, so you need to launch the program every time you want to take a screenshot. This makes it great for those who don't take screenshots very frequently, yet want to have a capable enough tool at their disposal whenever the need arises.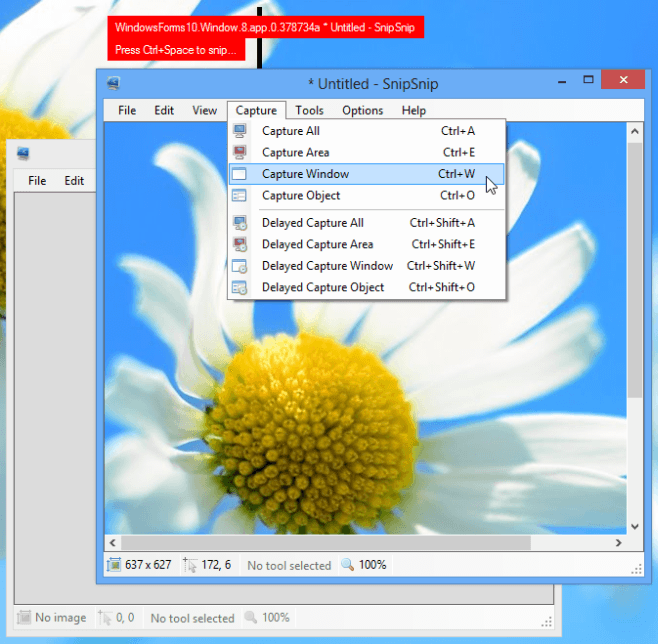 From the Capture menu, you can take a screenshot of the everything on the screen, a specific screen area, one of the windows that you have open, or a particular object (more in this later). The same menu also lets you take the same screenshots with a delay, which can be useful in many scenarios. When capturing windows, you'll see red-highlighted text appear over the window that you move your mouse cursor on, and pressing Ctrl+Space will capture that window. All the screenshot modes as well as the other features offered by the app can be triggered by keyboard shortcuts as well, which are shown next to their respective menu entries in all the menus.
The above options are there in pretty much every decent screenshot tool out there; what's special about SnipSnip is its 'Capture Object' option that I haven't come across in any other screenshot app.
This basically lets you take a screenshot of things like a right-click context menu, only a particular section of an app (like the toolbar in Photoshop), only the taskbar, just the desktop excluding the taskbar etc. Simply click Capture Object, move your mouse cursor over the object that you want to capture (you can still right-click in this mode to bring up context menus in order to capture them), and press Control+Space to capture just that object – no more taking full screenshots and then crop out the irrelevant parts.
Some examples of objects you can capture from within other windows would be the directory path field, a tree view pane, buttons in the toolbar, drop-down menus, etc. The app seems to be quite intelligent at distinguishing individual UI parts of apps in order to let you capture them separately.
Regardless of the capture mode, the captured image always loads in SnipSnip's editor. You can save the screenshots in PNG, JPEG, GIF, BMP or TIFF formats from the File menu. From the View menu, you can zoom in and out, while the Tools menu will let you edit your screenshot by adding lines, shapes and text in different colors, as well as cropping, resizing, trimming, flipping and rotating it. You can also undo and redo any of the actions from the Edit menu.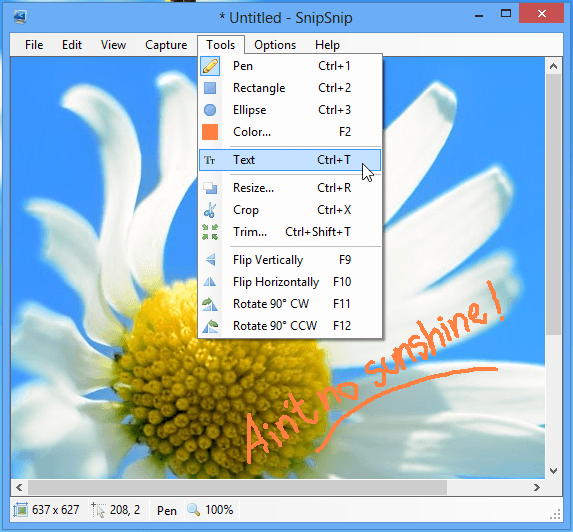 The Option menu lets you decide whether to include or exclude mouse cursor, layered windows and background wallpaper in your screenshots. The second and third of these options can help you ensure that the screenshot of any window with transparent borders doesn't show the underlying windows or the desktop wallpaper through the transparent parts, resulting in a very clean-looking end result.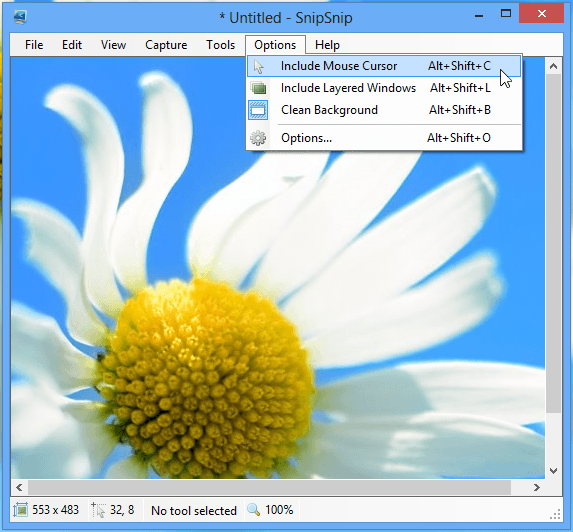 You'll also be able to access the app's settings from this menu by clicking Options. From the General tab, you can set SnipSnip to minimizes to the system tray, set the app to treat images copied to clipboard as newly captured images when pasting, choose a custom undo history size anywhere from 1 to 30, set the time delay for capturing screenshots, and customize the anti-flicker time delay. You can also set the default image background, capture overlay and object or window capture highlight colors.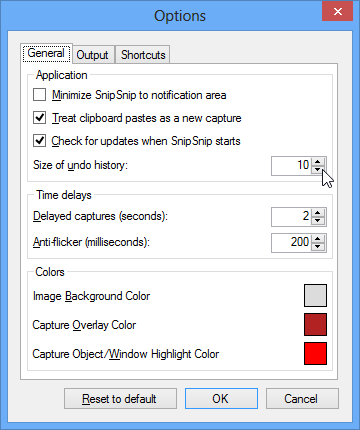 The output tab lets you specify the default location, file name pattern and image format for saving screenshots. You can also set the tool to always prompt you for file name and location when saving or upon exiting the app. The quality for files saved as JPEG images can be set here as well.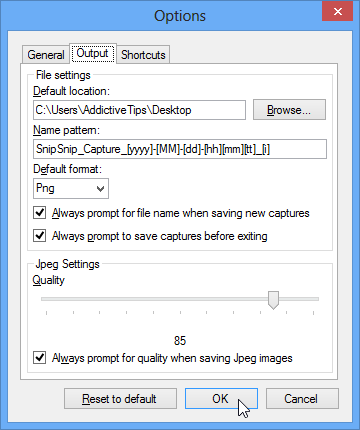 Lastly, the Shortcuts tab will allow you to edit all the keyboard hotkeys for SnipSnip's different  functions.
To sum it up, SnipSnip is an immensely capable screen capture utility and its object capture mode really makes it shine above the competition. To top that, its tiny size, ease of use, customization options and availability in a portable format that requires no installation makes it a must-have tool for every PC user who needs to capture screenshots.