SoftPerfect Network Scanner: Scans Multiple Network Processes And Remotely Controls Connected Systems
SoftPerfect Network Scanner is a portable utility which provides one-stop solution for scanning network processes to extract different sort of information and has an ability to perform network operations remotely over all the connected nodes. It scans multiple IPs, NetBIOS, and SNMP to provide you with the necessary information about all the nodes being connected.
Even though it has some complex options and features which are beyond the grasp of an average user, the interface is quite simple for both amateur and system administrators alike. All the features are expanded on the upper part of the window. You can start off with defining IP range to begin generic scanning process. It will start listing down all the connected nodes over network, you can access  all the shared folders including hidden files. The informatory columns categorizes information such as; Host Name, MAC(Media Access Control) address, Port, SNMP (Simple Network Management Protocol), etc.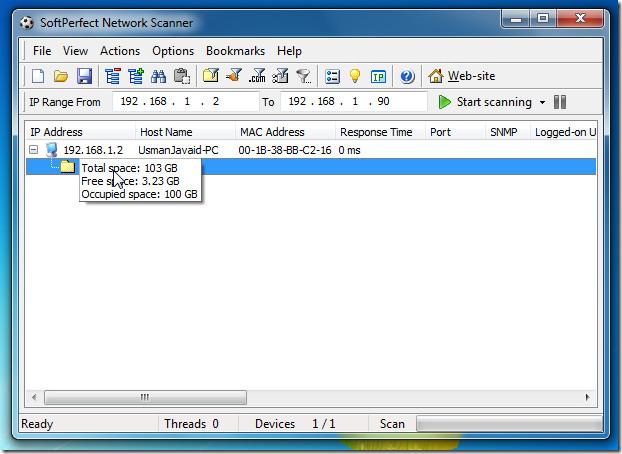 It also supports an intuitive WOL (Wake-On-LAN) phenomenon, which help administrators to remotely control the connected systems and wake them up from sleep. All that is required is to enter MAC address of the system to use the WOL feature. You can also populate the list of systems' MAC addresses to quickly use this feature. Under Actions menu, you can also set settings to remotely shutdown or hibernate the specified system. It  allows administrators to forcibly close down all the processes being run on connected systems and quickly ceases all the services from server.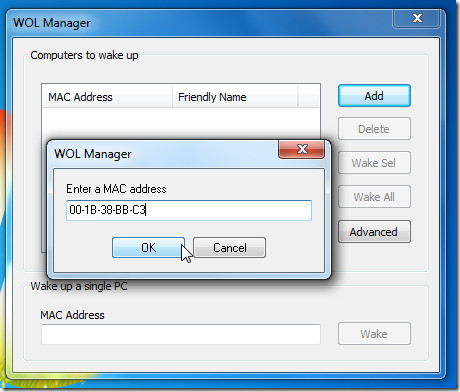 Other notable feature it offers is applying filters to scan all systems over the network through multiple set of information. You can search systems by MAC address, Host name, Port numbers, SNMP, IE version, Directx version, Service pack, Windows version, and lot more. This helps in streamlining the resources of the nodes and provides you with information regarding generic installed hardware/software components.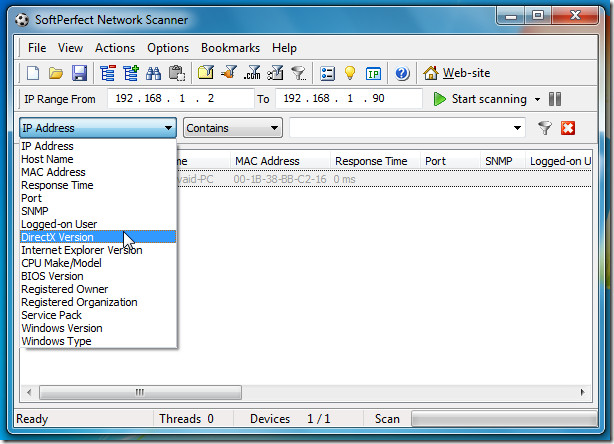 All the retrieved information can be saved in HTML, XML, CSV format for taking references in future. We have touched some salient features it offer and covered most prominent options, there are certainly lot more features and options to make use of. Visit product's page to view complete feature list.
It runs on all Windows based OS (both 32-bit and 64-bit systems are supported), testing was done on Windows 7 x86 system.
Download SoftPerfect Network Scanner
For more, you can check out SysFix to quickly fix network problems.