Songza Brings Its Occasion-Based Music Playlists To Windows 8 & RT
Although apps like Smart Music offer similar features, Songza is probably the most popular music streaming service that recommends playlists based on your mood, the time of the day or any activity you might be engaged in. We covered the iOS app for Songza quite a while back, and it seems it has since become quite popular in the App Store, as has its Android variant. As the Microsoft Build conference is in full flow, the service has chosen this opportunity to make its way to Windows 8. The new Modern app of Songza looks absolutely gorgeous, and comes with all the features that have made it such a success on other platforms. Songza for Windows 8 is pretty smart, and with a little help from you, can suggest some great playlists that match your mood and the time of the day. You can also choose to customize the app's filters if you don't like the playlists recommended for your current situation.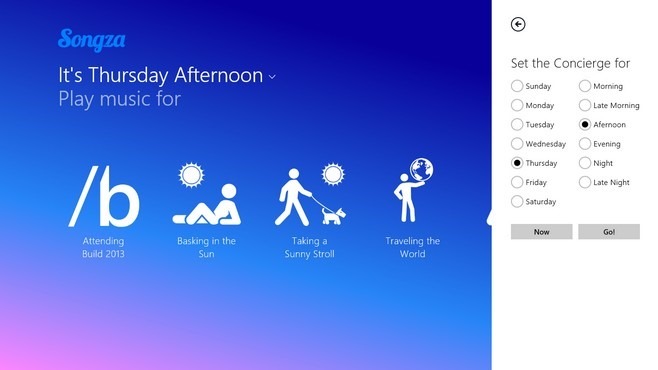 Users can sign in to the Windows 8 app using their existing Songza account credentials, or log in with Facebook to make the whole experience more social. Once logged in, Songza takes into account the day and time at your current location using its filter combination named 'Concierge'. If it somehow gets it wrong, or you simply want Songza to play weekend music while you are at work on a Monday, the options under Concierge can be changed. Below the time field, Songza recommends a few activities that are coupled with the Concierge settings to recommend the perfect playlist.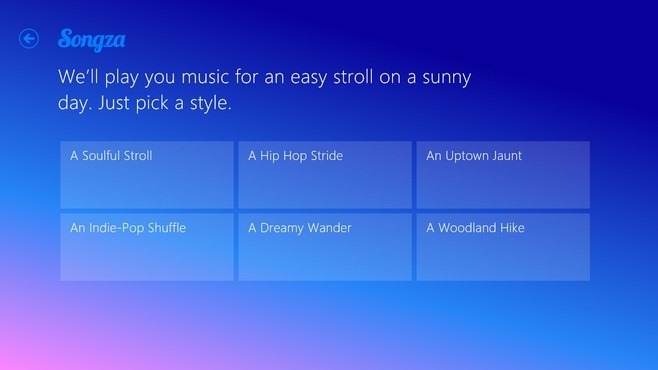 Before you get to the actual music though, there are couple of more choices that have to be made. Songza takes into account your current mood (or the mood you want to be in after listening to its playlists), so it gives a few mood-related options once you have selected an activity. These options vary from session to session.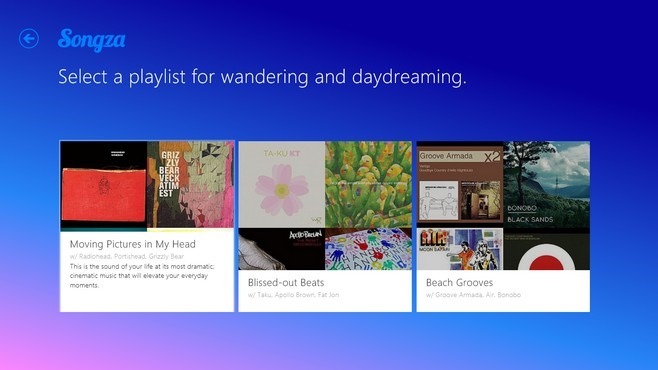 Even after all these choices, Songza comes up with three playlists, with a short description written over each. Based on this description or the accompanying album art, you have to choose one playlist so that Songza can finally get down to playing some music for you.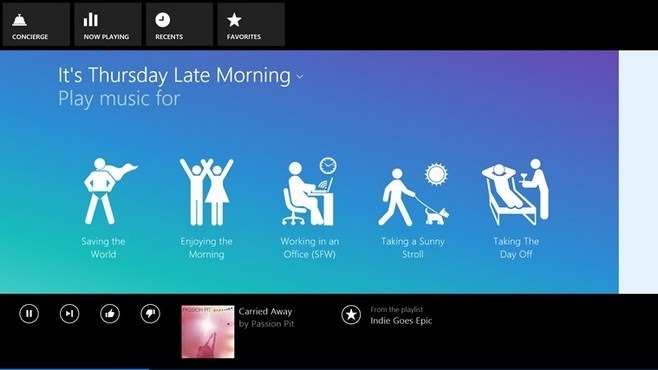 While music is being played in the app, you can skip a song, like or dislike it (which makes it easier for Songza to come up with better recommendations in the future), or view the song's info. The app maintains a history of all your played songs, which can be accessed by heading to the 'Recent' section of Songza.
Songza isn't perfect on Windows 8 just yet, and suffers from issues like frequent crashes and failure to install properly on some computers. If you do manage to make it work though, this free app is really nice and certainly worth a download.
Install Songza from Windows Store