Arrange Your Desktop: Sort Media, Documents & Other File Types In A Folder Into Separate Subfolders
Recently, I came across two of the very useful tools that changed the way I use my PC. One was PySort and the other was IconRestorer. The former would let you automatically organize your files or icons, while the latter is designed to backup and restore the positions of your desktop icons, supporting separate backup for each resolution. Today, another similar program caught my attention, (and literally saved me headaches) which I happened to like as much as the former two. Arrange Your Desktop is a small, yet feature-rich utility that allows you to automatically arrange desktop icons by creating separate folders for images, videos, documents, programs and other types of files. Keep in mind that the application doesn't just work with the desktop but you can employ it for any other folder on your hard drive, should you want to. It's a handy tool if you want your directories free of clutter and unwanted files. Keep reading for more details.
Please note that during the installation process, the setup program tries to download and install Babylon Toolbar as well as Coupish to your computer. This however can be easily avoided by clicking Custom installation and unchecking installation for both aforementioned tools.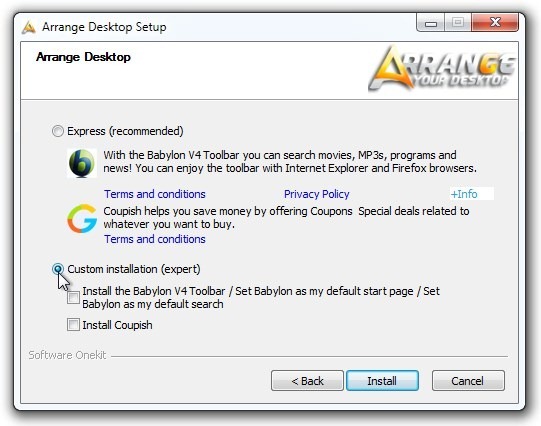 The application offers a black themed UI, with glowing buttons and other tidbits. To arrange a folder, the first thing you do is select your source directory under 'What folder are we going to arrange?' section. Afterwards, you can mark which type of file should move under what kind of folder, for example, Video, Pictures, Documents, Winrar, Programs + Shortcuts etc. However, you can rename the folders if you want to by inputting the required folder name. Additionally, you may also turn On Custom Type and To option at the bottom left – in order to define your own custom extensions and where do you want to put them.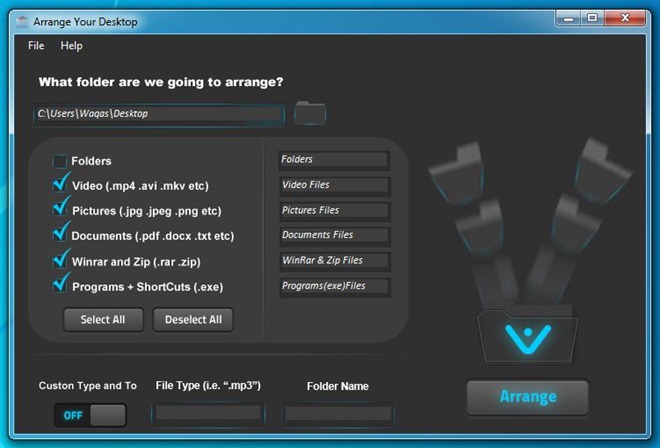 Once you have finished configuring up the application, just click the glowing Arrange button at the bottom right and you will see that all your program files and shortcuts, have been instantly moved to their appropriate location. Easy isn't it?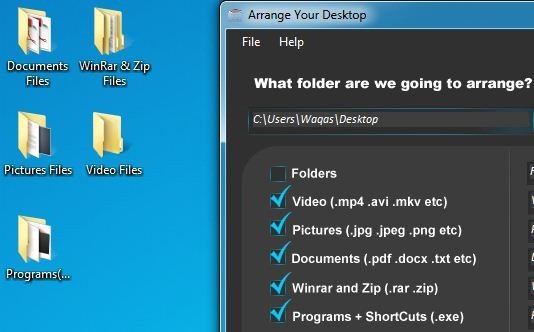 Just for reference, we have provided a screenshot below which lets you see how the application successfully decluttered the desktop within a few simple steps, making it look neat and elegant.

The application works on Windows XP, Windows Vista, Windows 7 and Windows 8. Both 32-bit and 64-bit OS editions are supported.