SpeedyFox – Speed Up/Boost Firefox Speed
Mozilla Firefox is by far the best feature-rich and fastest browser out there, but with the passage of time it slows down considerably. It will take a lot of time to load during startup, the overall speed will be effected, and browsing Histories will be too slow. This is very common problem and it occurs largely because of fragmentation of databases.
SpeedyFox is a recently launched small utility that fixes this problem with a single click. According to the developer behind this app, you will get 3 times faster startup speed, browsing history will become faster, and performing operations with cookies will be quicker than before.
Once installed, it will automatically detect your Firefox's default profile. If you have more than one profile, you can select the one you want to optimize from the drop-down menu. All you have to do is select the default profile that you want to optimize and hit Speed Up Firefox button.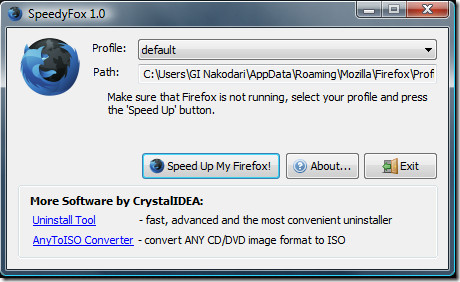 The optimization process can take anywhere from 5 to 15 minutes depending on how large your databases are.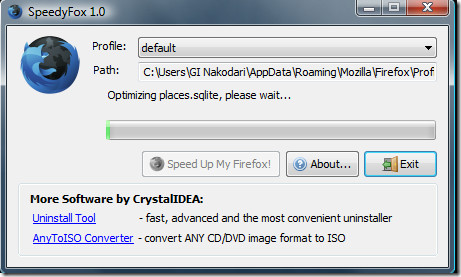 The whole optimization process is safe as it does not effect your history, bookmarks, passwords, etc. It seems unbelievable but after you optimize your Firefox with this tool, you will get a fresh newly-installed feel because the speed indeed gets considerably faster.
It works on Windows XP, Windows Vista, and Windows 7. Enjoy!