Yodz Splitter And Joiner: Split Large Files By Equal Size Or Defined Number Of Parts & Join Them
There are times when you need to upload a large size file to a file sharing website or attach it with email in order to share the file with your friends colleagues etc., but size limitations keep you from doing it. Sometimes, it often happens that you want to write a single file to a CD/DVD, but size constraints prevent you from writing the required data to the optical disc. In such situations, file splitters come handy. File splitters and joiners are designed to split large file into smaller chunks, so that you can easily share the file with others without having to worry about the size constraints. Yodz Splitter And Joiner is a small, yet powerful file splitter that lets you split and join large (very large) files. Read on to find out how this tool works.
Yodz Splitter And Joiner offers a simple interface. In order to split a file, choose your source file and then the destination folder. The application allows you to split the source file by specified size as well as total number of chunks.  After specifying the target location, enter either required size or number of files. Don't forget to select Generate .Join file check box, in case you need to rejoin your files later. Clicking the Split File button starts the file splitting process.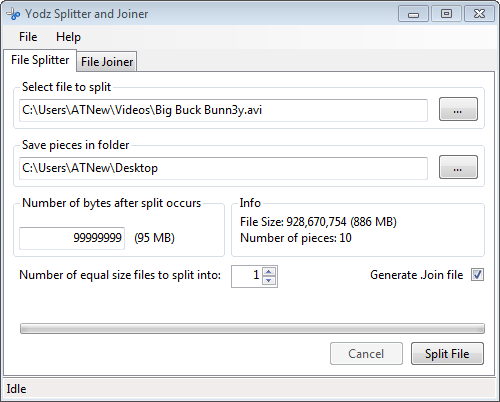 While testing the app on a Intel Core i3 system with 3 gigabytes of RAM, we split 886mb media file into 10 equal parts, and the application took 40 seconds to generate the files.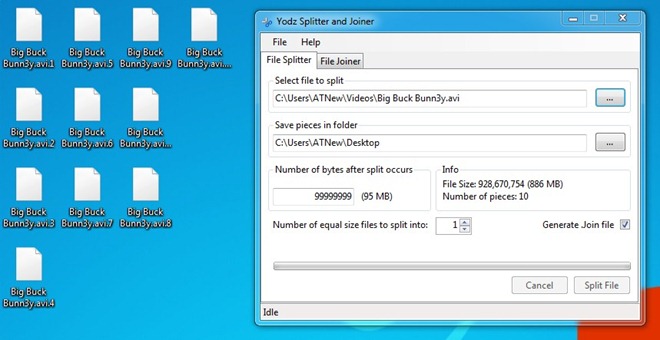 As mentioned earlier, you can rejoin the split pieces to bring back the original file. Just navigate to File Joiner tab and select the .Join file which was created during the file split process. Now, select the destination folder where you want to join the source files. You can also enable Delete pieces and .Join file after joining option to automatically delete the source file parts when file joining process finishes. When all settings are in place, click Join File to begin the process.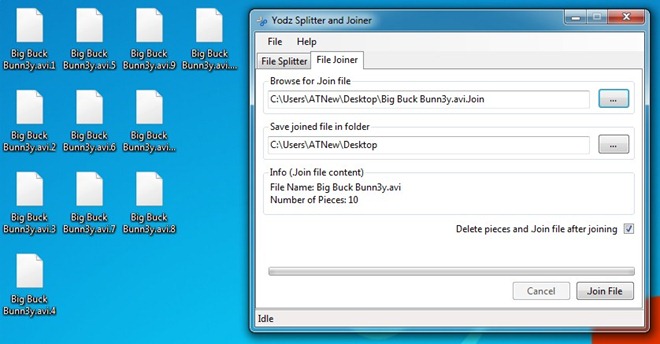 Joining the source files took approximately 40 seconds on our test system. There are some caveats with the application, like you must need the .Join file to bring back your original file. Also, if you're sending the pieces to some other person, he or she may require to download this application for regenerating the source file. Nevertheless, it's quite useful application and works without any issues, whatsoever.
It's an open source utility that works on Windows XP, Windows Vista, Windows 7, Windows 8. Both 32-bit and 64-bit OS editions are supported.
Download Yodz Splitter And Joiner