SpyShelter Prevent Applications From Stealing Private Information
Downloaded applications from unreliable sources may contain malwares, rootkits or keyloggers, which attempts to access private information from the system. Scanning completely for such rootkits and keyloggers is a bit difficult and many tools having intrinsic capability are unable to detect them. The solution is to use a dedicated tool for finding such spying programs. SpyShelter, as name suggests is a anti-key logger and works on the principle of finding all such spying programs which are seemingly efficient in their work but at backend continuously stealing personnel information.
The intuitive interface will easily let you start the shield. It keep a consistent check on programs being run . The staunch algorithm keeps tab on all sorts of applications, instances which are stealing private information, on finding such programs or application's instances, it prompts user to perform an action of either allowing or disabling the application's activity completely. The main interface keep all the logs, black listed programs, and other issue-related information. Under Block/White lists tab, you can view and manage all the spying applications, plugins or instances. If you want to mark any black-listed program as safe, right-click to select Make it allowed.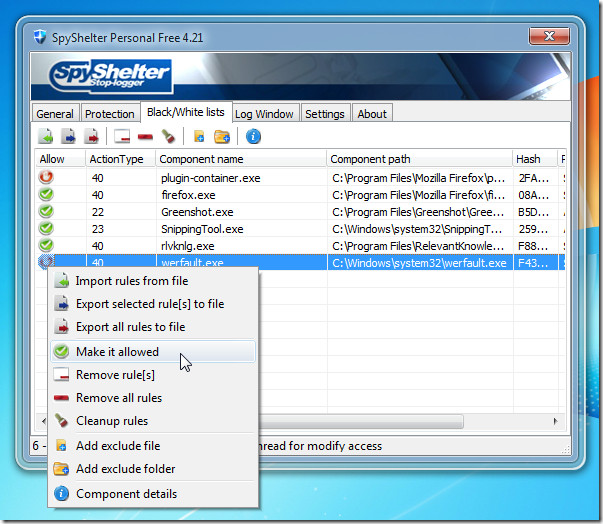 The whole working is consist of multiple level anti-spying features which includes; AntiKeylogging, AntiScreenCapture, AntiGet Text, etc. You can manually enable/disable them if needed, we would reckon you to keep all of them enabled to inspect all spying programs.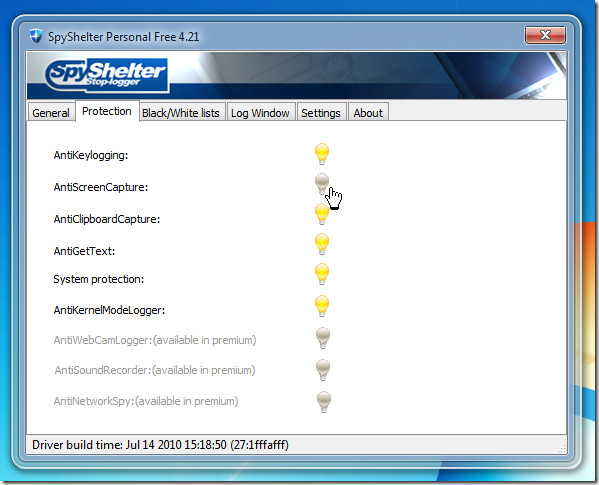 On finding out spying instance of any application, it will immediately prompt you to select the option for either allowing it to continue operation or to disable it right-away.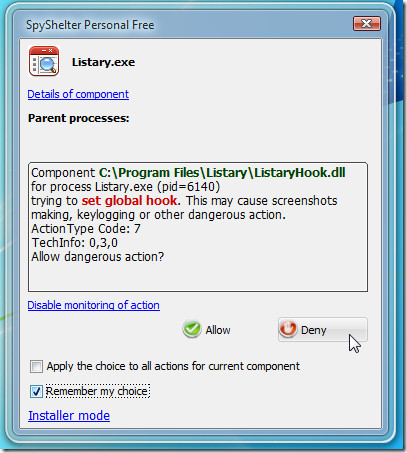 The application is one great find, we have not come across such a comprehensive application which addresses the same issues before. It provides one complete solution to keep the private information confidential and other advanced options which helps you to customize its working as required.
It runs on all Windows based OS, testing was carried out on system running Windows 7 x86.