ST Proxy Switcher: Switch Between Proxies From Several Countries
ST Proxy Switcher is a free application that provides a wide range of free proxy servers and allows switching between them in a click. This enables surfing the web anonymously by switching between servers of different proxy services from around the world, thereby disguising your real IP address and location. ST Proxy Switcher comes with an integrated download tool, which helps you obtain proxy servers from all over the world. You can mark selected servers as favorites for instant access from the system tray, and customize the list by adding or removing proxy servers from numerous countries around the world.
To get started, select a proxy server list to download (HTTP, HTTP Anonymous, SocksS4 or SockS5).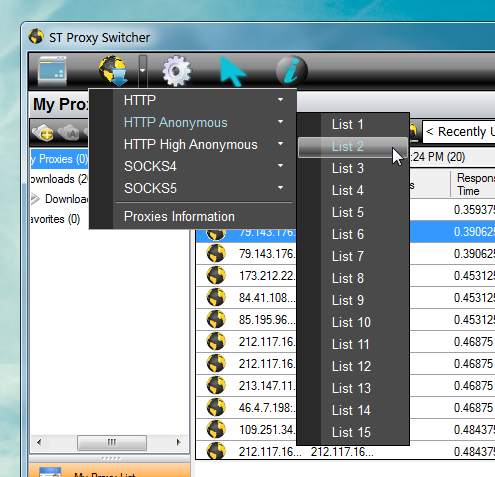 Once the server list is downloaded, you can switch between any server from a specific country by double clicking it. All relevant information about each server is displayed in columns, including, the server name, IP address, status, response time (can help you identify low latency servers), region (country), proxy type, etc.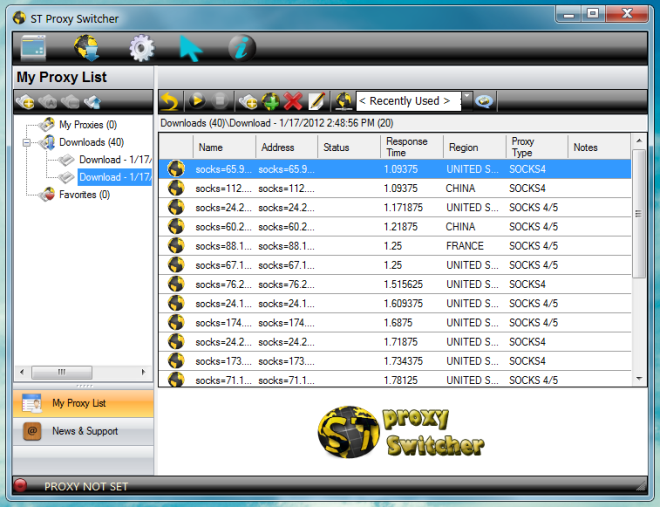 If the proxy is not automatically activated after being selected, select and activate it from the system tray menu. You can also add proxies to favorites. The system tray menu enables displaying the main interface and deactivating the proxy.

ST Proxy Switcher works on Windows XP, Windows Vista and Windows 7.